Venus Williams
23-Time Grand Slam Champion
For over a quarter century, Venus Williams has captivated the world with her incredible story. In her illustrious career, she's won 7 Grand Slam singles titles, Olympic Gold medals, and reached world #1, but that's not what defines Venus Williams. Join her as she shares her story, and teaches you the techniques and fundamentals that won 73 titles throughout her career.
Class Trailer
Class Preview
Stories
Meet your new instructor: 23 time Grand Slam Champion, Venus Williams. The Williams family has always looked out for one another, and that support, and motivation drove Venus to reach incredible heights throughout her career.
People see Venus as a strong stoic athlete, dominating opponents, and lifting trophies. What people don't know may surprise them, listen as Venus shares the side of her you don't see on TV.
What defines Venus Williams, is not what happens on the tennis court. Here she discusses her personal values and philosophies that she puts into practice to always be improving as a person.
Finding inspiration through her father's journey, Venus has always craved more than just success on the court. In 2007, Venus launched her very own fashion line, EleVen to create a collection that allows women to enjoy an active lifestyle while remaining fashionable at the same time.
Tennis much like life, is a game of pressure. Understanding, and accepting your weaknesses is crucial to being a successful athlete. Venus discusses an important piece of advice from Serena, and how brutal self honesty is the key to an athletes success
It's natural for an athlete to want to be perfect, especially going into a Grand Slam, and Venus is no exception. She has learned over the years to let go of perfection, believe in her hard work, and preparation to have the confidence to overcome any adversity that comes her way.
The legacy, and memories left by a close family friend reminded Venus of what is truly important. Listen as she discusses what really matters, and the legacy she strives to leave behind beyond her accomplishments on the court.
Venus is excited to partner with TopCourt to give players, and fans all over the world endless inspiration to learn from her journey on, and off the court. TopCourt allows players to share their story like never before, going beyond the on court success, each player now has the ability to let fans see the side of them they have never shared before.
Drills
Drills coming soon.
Instruction
Venus takes you step by step through the basic fundamentals needed to have a great serve. From the grip to the toss, Venus covers everything you need to know in order to develop a fundamentally sound serve.
Using the fundamentals you learned in Part 1, Venus walks you through how she incorporates all of those same tips into her serve. Venus covers every step of her serve, and red flags to look out for with incredible detail for players of all levels.
Early in her career, Venus favored her backhand but has worked to turn her forehand into a massive weapon. Here she walks you through the fundamentals you need to turn your forehand into your biggest strength.
Having a great return will put pressure on your opponent and give you more opportunities to break serve. Venus will show you how to be a more complete player and break serve more often with these tips and strategies on your return.
The backhand was a natural strength for Venus as a young player. Here she walks you through the fundamentals taught by her father, and gave her one of the most consistent and confident strokes in her game.
Behind The Scenes
Get to know the real Venus Williams. The good, the bad, and hilarious.
Access to all classes for $15/month (billed annually)
Explore other classes
Watch hundreds of lessons from the best as they share their stories, instruction, drills, failures, and successes.
Access to all classes for $15/month (billed annually). 100% satisfaction guaranteed.
GET STARTED
Enjoy from anywhere,
at anytime, on any device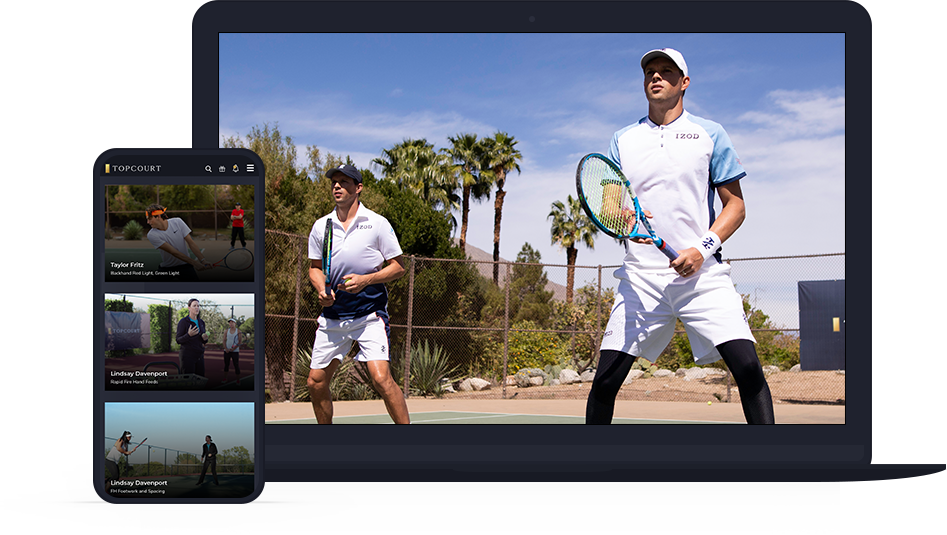 Get a TopCourt annual membership.
Access to all classes for $15/month (billed annually)
GET STARTED
JOIN THE GLOBAL MOVEMENT
Grow stronger together, no matter where you are in the world.
Frequently asked questions
TopCourt is a streaming platform that makes it possible for anyone to look into the life, mind, and performance of the top tennis pros. Drills, stories, behind the scenes events, and instructional videos are available anytime, anywhere on your smartphone, personal computer, and other streaming media players.
Membership includes access to an incredible catalog of 100+ drills, instructional videos, personal stories, and behind the scenes footage led by the world's top tennis professionals.

Each pro shares their best-kept secrets to mastering the game of tennis in a way you've never seen before. You'll learn world-class technique for all shots in the game, off court preparation and fitness regimens, mental strategies to get you through tough matches, and lots more so you finish on top.
With TopCourt, you can learn and be inspired anytime, anywhere, including your smartphone, personal computer, and other streaming media players. Watch at your own pace and unleash your full potential.
The annual membership starts at just $180 and provides unlimited access to all pros and new pros as they launch. All TopCourt memberships include unlimited streaming, high-definition videos, and special rewards for getting started.

Additional exclusive tennis experiences are available through our TopCourt Gold membership to get you closer to the game than ever before.
If you don't want to continue, you can cancel your membership renewal through your account page. Follow the prompts to cancel on the Settings page, and your membership will not renew. Please note that there aren't refunds for partially unused membership periods.

If you have more questions, don't hesitate to reach out to us at [email protected] We're happy to help in anyway we can!
Yes! Our team is continuously adding the world's top pros and coaches to the platform to ensure you stay ahead of the curve. With new content launching regularly, you can learn new skills, ignite your passions, and play the game better than ever before.

As a member, you can even win the chance to join us on set as a VIP guest and hang with the pros. We hope to see you there!
TopCourt offers instruction, drills, stories and more from a variety of current and former champions and world-class coaches. All of our videos are designed to be accessible for people with little to no experience and advanced professionals alike. If you're a tennis fan, or looking to unleash your potential, TopCourt is an absolute must have!