Grigor Dimitrov
Highest Ranking #3
One of the most talented and charismatic players on the ATP Tour, Grigor Dimitrov's combination of power and grace on the court is unmistakable. Now the once dubbed Baby Federer is here to show you a side of him that you've never seen before. Join Grigor as he shares the secrets to his beautiful one handed backhand and the strategies to incorporate into your next practice that will empower you to take control of every point you play.
Class Trailer
Class Preview
Stories
Meet your new instructor; Bulgaria's most successful tennis player in history, Grigor Dimitrov. As a young boy, Grigor's parents put a tennis racquet into his hands to help burn his youthful energy, unbeknownst to them beginning a long journey.
From an early age, Grigor's parents have been there to support and guide him. Looking back, he reflects on their support in helping him reach for the dreams he had made for himself.
On the junior tour, Grigor was known for his incredible talent and at times his lack of discipline. As he grew older he saw that things would need to change in order to compete at the highest levels of tennis.
No matter what your profession, to excel at your craft you have to find your own unique reasons to motivate yourself. Grigor shares his motivational philosophy and gives you advice to push through day in and day out.
Tennis is about much more than just technique and what you do on the court. The mental side of the game can be worked on at any moment of the day, Grigor shares how little details throughout the day can make the difference in your next match.
When it comes to match strategy there are always things to prepare to be ready for your opponents game but you should first understand your own game. Grigor shares how understanding your own strengths and weaknesses will help you be ready to face any opponent that comes your way.
Grigor reflects on a moment at the U16 European Championships that he credits as being a pivotal moment for his future and has led to over a decade on the ATP Tour. No matter what your personal situation is, if you take ownership of your journey, you can achieve anything.
Drills
For players with a weaker backhand side, it is common for opponents to attack that side of your court. Grigor shares his favorite pattern drill to show you how to neutralize a point with a defensive backhand and work your way back into an offensive position.
Grigor takes you through one of his favorite drills to help you with your transition and finish at the net. Keeping things simple with this fundamental drill will give you the confidence to move forward and dominate your next opponent.
This unique and face paced volley drill will be sure to get your hands and eyes ready for anything. Grigor shares a new drill he's put into his practice routine to keep things fresh and fun.
Instruction
With one of the most beautiful and effective one-handed backhands on tour, Grigor takes you through every detail of the stroke. From the grip, to the set up, and follow through, Grigor leaves no stone unturned in this comprehensive class on the one handed backhand.
After understanding the fundamentals behind the one-handed backhand, utilizing the versatility that that one handed backhand provides is the next step. Grigor takes you through the keys to learning and executing the one-handed backhand down the line.
Whether you have a one hander like Grigor or prefer the two handed backhand, the slice is a critical shot to master. Grigor will teach you the fundamentals to improve your slice immediately.
Behind The Scenes
Get to know the real Grigor Dimitrov. The good, the bad, and hilarious.
Access to all classes for $15/month (billed annually)
Explore other classes
Watch hundreds of lessons from the best as they share their stories, instruction, drills, failures, and successes.
Access to all classes for $15/month (billed annually). 100% satisfaction guaranteed.
GET STARTED
Enjoy from anywhere,
at anytime, on any device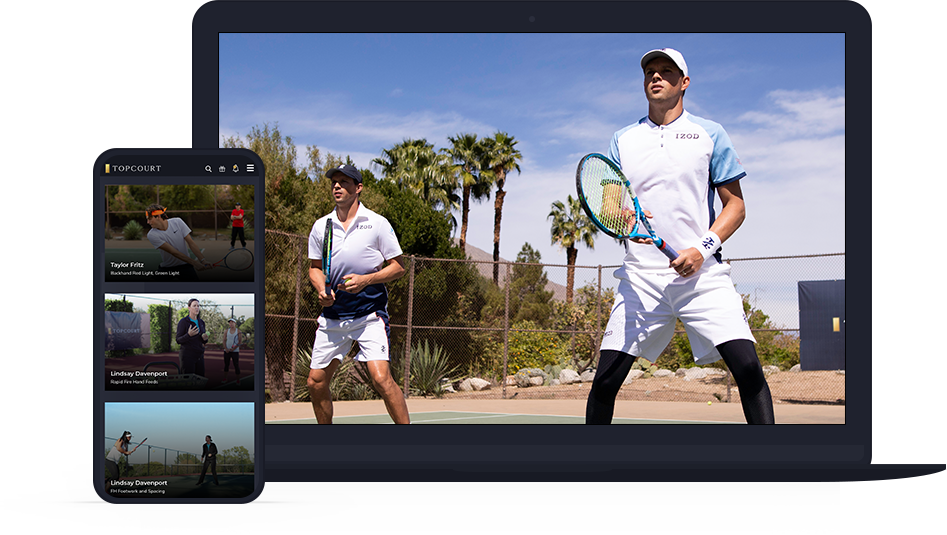 Get a TopCourt annual membership.
Access to all classes for $15/month (billed annually)
GET STARTED
JOIN THE GLOBAL MOVEMENT
Grow stronger together, no matter where you are in the world.
Frequently asked questions
TopCourt is a streaming platform that makes it possible for anyone to look into the life, mind, and performance of the top tennis pros. Drills, stories, behind the scenes events, and instructional videos are available anytime, anywhere on your smartphone, personal computer, and other streaming media players.
Membership includes access to an incredible catalog of 100+ drills, instructional videos, personal stories, and behind the scenes footage led by the world's top tennis professionals.

Each pro shares their best-kept secrets to mastering the game of tennis in a way you've never seen before. You'll learn world-class technique for all shots in the game, off court preparation and fitness regimens, mental strategies to get you through tough matches, and lots more so you finish on top.
With TopCourt, you can learn and be inspired anytime, anywhere, including your smartphone, personal computer, and other streaming media players. Watch at your own pace and unleash your full potential.
The annual membership starts at just $180 and provides unlimited access to all pros and new pros as they launch. All TopCourt memberships include unlimited streaming, high-definition videos, and special rewards for getting started.

Additional exclusive tennis experiences are available through our TopCourt Gold membership to get you closer to the game than ever before.
If you don't want to continue, you can cancel your membership renewal through your account page. Follow the prompts to cancel on the Settings page, and your membership will not renew. Please note that there aren't refunds for partially unused membership periods.

If you have more questions, don't hesitate to reach out to us at [email protected] We're happy to help in anyway we can!
Yes! Our team is continuously adding the world's top pros and coaches to the platform to ensure you stay ahead of the curve. With new content launching regularly, you can learn new skills, ignite your passions, and play the game better than ever before.

As a member, you can even win the chance to join us on set as a VIP guest and hang with the pros. We hope to see you there!
TopCourt offers instruction, drills, stories and more from a variety of current and former champions and world-class coaches. All of our videos are designed to be accessible for people with little to no experience and advanced professionals alike. If you're a tennis fan, or looking to unleash your potential, TopCourt is an absolute must have!