Alexander Zverev
2020 Olympic Gold Medalist
One of the most dominant and fiery players on the ATP Tour, Alexander "Sascha" Zverev is just getting started. Since turning pro in 2013, Sascha has recorded 18 ATP titles, an Olympic Gold medal, a career-high ranking of No. 3 in the world but has his sights set even higher. Now the reigning Olympic Gold medalist is here to share the secrets behind his relentless groundstrokes and the strategies that will inspire you to take control of your own game. Join Sascha for his one of a kind exclusive class that you don't want to miss.
Class Trailer
Class Preview
Stories
Meet your new instructor: the reigning Olympic Gold Medalist, Alexander Zverev. Tennis has been part of the Zverev family for generations and with an older brother on the pro tour, each family member played a vital and specific role in his development.
As a young junior, Alex was not always the best in his age group and was yet to stand out from the crowd. There was no rush to be the best for Alex, his parents set out to develop his game for the future, not for today.
In Alex's final year of junior tennis, he found himself outside of the top 100 before ending the year as the #1 player in the world. As a young up and coming pro he recorded his first ATP tour win in 2014 on his way to making it to the semi-finals in Hamburg but was quickly brought back to reality after his clash with David Ferrer.
As a young boy, Alex idolized Roger Federer, watching him dominate the ATP Tour and holding up Grand Slam trophies dreaming of being the one raising the trophy one day. Alex recall's his first victory over Roger Federer, the emotions of besting a boyhood idol and how close he was to holding his first Grand Slam trophy.
As a fan, you often see the glamour and success of our favorite players. Here Alex shares a behind the scenes look at his rigorous training schedule and discusses the work that he puts in so that he can shine in the biggest moments.
No two opponents are the same and when you're competing with the best, the difference between winning or losing is in the details. Alex discusses his meditation practice and how his training and preparation changes depending on his opponent.
t's no secret that the mental game is one of the biggest aspects of tennis and in life. Alex discusses his strategies to improve his mental game, shares his advice to help you perform in pressure situations, and what he learned from his close call in the US Open final.
Growing up with role models like his older brother Mischa, idols like Roger Federer and Rafael Nadal, Alex hopes to inspire the next generation to work for and achieve their dreams just as they did for him. Still in the early stages of his career, Alex knows there will be ups and downs but it's how you persevere through the tough moments that will pay off in the end.
Drills
Getting comfortable coming forward to the net is much easier when you understand the strategy and angles of the court. Alex takes you through this approach and volley drill and explains the strategy behind a great transition game.
Your slice could be your new weapon, not only to throw your opponent off with different spin but to create an offensive ball for you to take down the line. Alex walks you through the strategy behind using your slice to create opportunities to get comfortable going from a slice to topspin backhand.
If your forehand is your weapon, this is a crucial pattern to grow comfortable with. Alex takes you through his strategy with his backhand crosscourt to gain the advantage in the point and go on offense with his forehand.
When you're in a defensive position you still have options to get back into the point at neutral or even back on offense. Alex discusses defensive strategy and the options you have to get back in the point with this effective drill.
our strategy with a volley can differ depending on your court position but as always your legs are the key. Alex takes you through a great drill that will help you get comfortable hitting volleys from well behind the service line all the way to the top of the net.
When your partner hits a poor return through the middle or your opponent poaches off the first ball you're not out of the point. Mischa and Alex show you a great drill to teach you how to stand your ground and prove you're never out of the point.
Being an aggressive doubles player means always looking for the ball when you're at the net. Mischa and Alex walk you through a great doubles drill, discuss strategy, and tactics to make your opponents fear you at the net.
Having an older brother and role model on the ATP Tour was motivation for Alex to one day compete at the highest level. Here Alex's older brother, Mischa talks you through an intense warm up and shares tips on how to make sure your game is ready for any practice or match.
Sibling rivalries can be intense but a driving force for improvement. Watch Mischa and Sascha compete in a baseline game and listen as they talk through their strategy and evaluate each point.
There is something to learn after each and every point, listen to Mischa and Alex discuss strategy and mindset live in between points. After Mischa takes round 1, let's see if Alex can even the score with a win in round 2.
Instruction
Good technique is built on solid fundamentals. Alex walks you through his fundamental approach to the forehand using comparisons from other great players to help you improve your technique and dominate with your forehand.
Utilizing the technique and fundamentals taught to him by his mother as a young boy, Alex has one of the most technically sound and consistent backhands on tour. Here he shares those fundamentals and one key characteristic that the best two handed backhands have in common.
Against a big server, your return is the equalizer that will get you into the point. With one of the best returns on tour, Alex shares the key's and fundamentals that you can incorporate into your game to start breaking serve more often.
Behind The Scenes
Get to know the real Alexander Zverev. The good, the bad, and hilarious.
Alexander explains what his equipment is and why.
Alexander explains what his diet is on and off the court.
Alexander answers the question that everyone is talking about. Who will end up as the GOAT?
Access to all classes for $15/month (billed annually)
Explore other classes
Watch hundreds of lessons from the best as they share their stories, instruction, drills, failures, and successes.
Access to all classes for $15/month (billed annually). 100% satisfaction guaranteed.
GET STARTED
Enjoy from anywhere,
at anytime, on any device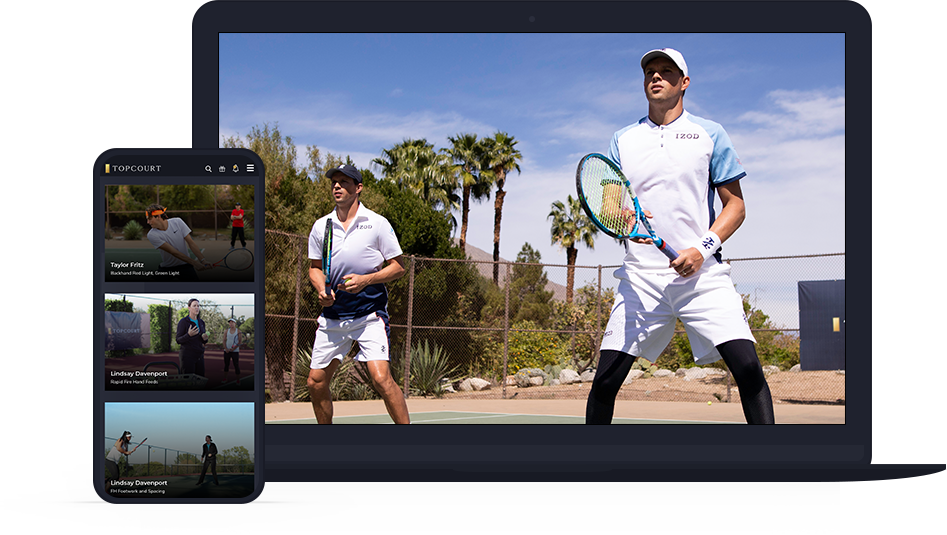 Get a TopCourt annual membership.
Access to all classes for $15/month (billed annually)
GET STARTED
JOIN THE GLOBAL MOVEMENT
Grow stronger together, no matter where you are in the world.
Frequently asked questions
TopCourt is a streaming platform that makes it possible for anyone to look into the life, mind, and performance of the top tennis pros. Drills, stories, behind the scenes events, and instructional videos are available anytime, anywhere on your smartphone, personal computer, and other streaming media players.
Membership includes access to an incredible catalog of 100+ drills, instructional videos, personal stories, and behind the scenes footage led by the world's top tennis professionals.

Each pro shares their best-kept secrets to mastering the game of tennis in a way you've never seen before. You'll learn world-class technique for all shots in the game, off court preparation and fitness regimens, mental strategies to get you through tough matches, and lots more so you finish on top.
With TopCourt, you can learn and be inspired anytime, anywhere, including your smartphone, personal computer, and other streaming media players. Watch at your own pace and unleash your full potential.
The annual membership starts at just $180 and provides unlimited access to all pros and new pros as they launch. All TopCourt memberships include unlimited streaming, high-definition videos, and special rewards for getting started.

Additional exclusive tennis experiences are available through our TopCourt Gold membership to get you closer to the game than ever before.
If you don't want to continue, you can cancel your membership renewal through your account page. Follow the prompts to cancel on the Settings page, and your membership will not renew. Please note that there aren't refunds for partially unused membership periods.

If you have more questions, don't hesitate to reach out to us at [email protected] We're happy to help in anyway we can!
Yes! Our team is continuously adding the world's top pros and coaches to the platform to ensure you stay ahead of the curve. With new content launching regularly, you can learn new skills, ignite your passions, and play the game better than ever before.

As a member, you can even win the chance to join us on set as a VIP guest and hang with the pros. We hope to see you there!
TopCourt offers instruction, drills, stories and more from a variety of current and former champions and world-class coaches. All of our videos are designed to be accessible for people with little to no experience and advanced professionals alike. If you're a tennis fan, or looking to unleash your potential, TopCourt is an absolute must have!