Fernando Verdasco
Highest Ranking #7
As a 19 year veteran on the ATP tour, Fernando Verdasco has seen it all from his 2009 Australian Open semi-final epic clash with Rafael Nadal, 7 ATP singles titles, and Davis Cup clinching singles wins. His journey from a young boy in Madrid with big dreams to becoming a Spanish legend didn't happen overnight. He shares his story and is here to teach you the drills and fundamentals that helped him develop one of the most feared forehands in the world.
Class Trailer
Class Preview
Stories
Meet your new instructor: Spanish legend and Davis Cup champion, Fernando Verdasco. After 19 years on tour Fernando details his journey starting as a young boy with big dreams growing up in Madrid.
Fernando discusses his early development and progression as a player in Spain. Learn how his practice schedule and belief he could be great grew over time.
Becoming a Spanish champion in Segovia was a turning point for Fernando. Learn how the ages of 15-18 were pivotal to Fernando's journey in becoming a pro.
Molding his game from idols like Andre Agassi, Fernando found an identity in his aggressive style of play. He also gives advice to young players with dreams of being a pro.
Fernando describes his heartbreaking 5 hour 2009 Australian Open semi final epic against Rafael Nadal and the joy of finally breaking through against Nadal in Madrid.
Tennis is a lonely sport. Fernando discusses the importance Davis Cup has played in his career and how those weeks with the Spanish team are some of his most memorable.
As a veteran on tour, Fernando gives tips on how to have a long career and how he is as motivated as ever to continue his success on tour.
Drills
This drill is great for working on rhythm and finding a groove. Alternating between cross court and down the line balls. Fernando shows you the importance of also changing up speeds, spin and height on each ball.
Fernando shows you a drill he has been doing since he was a kid and still does today. This is a great way to find your rhythm and perfecting the fundamentals.
This a drill that Fernando did for many years on his way to the top of tennis. This is a high intensity drill that helps you hit all of the shots on the forehand.
A drill that helped Fernando develop his dominant forehand. This high intensity drill will help you develop all the shots with your forehand and get comfortable hitting on the move.
This is a great drill to work on your conditioning. Hit 2 forehands line and then 2 backhands cross.
Instruction
Spending the time each day on your serve is so important. Most players don't spend nearly enough time. Watch how Fernando practices his most important serve.
Missing in the net, long, and wide are the three mistakes you can make on your serve. Learn how you can avoid those costly mistakes.
As the Bryan Brothers said, Fernando has the biggest forehand on the tour. Learn how he generates his power to create his massive forehand.
Behind The Scenes
Get to know the real Fernando. The good, the bad, and hilarious.
Access to all classes for $15/month (billed annually)
Explore other classes
Watch hundreds of lessons from the best as they share their stories, instruction, drills, failures, and successes.
Access to all classes for $15/month (billed annually). 100% satisfaction guaranteed.
GET STARTED
Enjoy from anywhere,
at anytime, on any device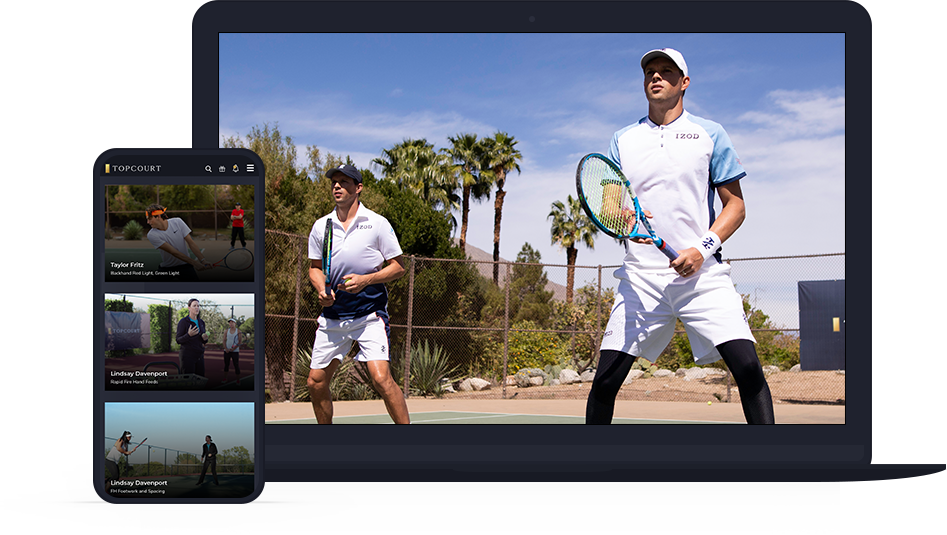 Get a TopCourt annual membership.
Access to all classes for $15/month (billed annually)
GET STARTED
JOIN THE GLOBAL MOVEMENT
Grow stronger together, no matter where you are in the world.
Frequently asked questions
TopCourt is a streaming platform that makes it possible for anyone to look into the life, mind, and performance of the top tennis pros. Drills, stories, behind the scenes events, and instructional videos are available anytime, anywhere on your smartphone, personal computer, and other streaming media players.
Membership includes access to an incredible catalog of 100+ drills, instructional videos, personal stories, and behind the scenes footage led by the world's top tennis professionals.

Each pro shares their best-kept secrets to mastering the game of tennis in a way you've never seen before. You'll learn world-class technique for all shots in the game, off court preparation and fitness regimens, mental strategies to get you through tough matches, and lots more so you finish on top.
With TopCourt, you can learn and be inspired anytime, anywhere, including your smartphone, personal computer, and other streaming media players. Watch at your own pace and unleash your full potential.
The annual membership starts at just $180 and provides unlimited access to all pros and new pros as they launch. All TopCourt memberships include unlimited streaming, high-definition videos, and special rewards for getting started.

Additional exclusive tennis experiences are available through our TopCourt Gold membership to get you closer to the game than ever before.
If you don't want to continue, you can cancel your membership renewal through your account page. Follow the prompts to cancel on the Settings page, and your membership will not renew. Please note that there aren't refunds for partially unused membership periods.

If you have more questions, don't hesitate to reach out to us at [email protected] We're happy to help in anyway we can!
Yes! Our team is continuously adding the world's top pros and coaches to the platform to ensure you stay ahead of the curve. With new content launching regularly, you can learn new skills, ignite your passions, and play the game better than ever before.

As a member, you can even win the chance to join us on set as a VIP guest and hang with the pros. We hope to see you there!
TopCourt offers instruction, drills, stories and more from a variety of current and former champions and world-class coaches. All of our videos are designed to be accessible for people with little to no experience and advanced professionals alike. If you're a tennis fan, or looking to unleash your potential, TopCourt is an absolute must have!