Jessica Pegula
Highest Ranking #21
Rising American star, Jessica Pegula is quickly climbing up the rankings on the WTA tour. From starting her career at the lowest levels of professional tennis to competing on the world's biggest stages, Jessica's journey into the top 40 in the world is a lesson in perseverance and belief. Now the pride of Bill's Mafia on the tennis court is here to share her journey, and empower you to take your game to the next level. Whether you aspire to be a professional, or you're picking up a racquet for the first time, Jessica is here to show you the way.
Class Trailer
Stories
Meet your new instructor: American rising star, Jessica Pegula. At a young age, Jessica developed a strong work ethic, and fundamentals that laid a foundation for her to build upon throughout her career.
Unlike most players you see at the top of the rankings, Jessica's success didn't come immediately. She has persisted, and fought her way through the fray from juniors all the way to the biggest stages of professional tennis.
In training, the accumulation of time spent on the "little things" can add up, and be the difference maker in your performance. Here Jessica shares some of those little things that she works on with her coach to prepare her body and mind to compete at her highest levels.
Whether you're a recreational player looking for an edge against your friends on the court, or a competitive junior trying to get to the next level it's imperative to know the strengths and weaknesses of your game. Listen as Jessica shares her advice to all players the benefit of knowing your game, and how to use that to your advantage against your opponent.
Striking the right balance between your personal life, and your career is important for not only your performance but your overall well being. Jessica shares how her on and off court balance has evolved through her career, and her passions away from the court.
Throughout her young career, Jessica has experienced adversity through injuries, and battling through the lower levels of professional tennis. Here she describes how she has attacked the rehab process, and the pro tour isn't always as glamorous as it may seem.
Before breaking through and winning her first WTA event, Jessica found herself coming up short in several finals. Knowing she had the game to win at the highest level, she took matters into her own hands, and made an effort to improve her mental game which gave her the edge she needed to excel in pressure moments.
A perfectionist at heart, as many athletes are, Jessica has always been hard on herself after losses, or mistakes. Through her career she's learned to make mistakes, learn from them, and move on.
In today's world, we are always looking for immediate success, and gratification. Jessica, shares her advice on looking towards the future, not letting wins and losses dictate your worth as a player, and the advice she'd give to any recreational player looking to improve.
Drills
Having confidence in your slice backhand to create variety in a point could be the skill you need to win your next match. This is a great drill to work on your slice in a repetitive live ball situation to get you more comfortable utilizing your slice in a point.
Attacking your opponent's second serve and coming in behind it is a great tactic to put pressure on your opponent. This is a great drill for a player at any level looking to be aggressive in their next match.
Whether you're looking to win your club championship, or win Wimbledon, you're going to need to be comfortable finishing points at the net. Jessica shows you a great drill you can use in your next practice to give you the confidence to come forward and finish the point with a volley.
Instruction
The backhand slice is one of the most versatile strokes in the game. Jessica shows you the fundamentals you'll need to use your slice on offense, defense, or just to mix up the point.
Surprise your opponent in your next match with a well timed and executed drop shot. Jessica shows you the fundamentals you'll need to master the dropshot, and how to recognize when to execute a backhand dropshot.
Behind The Scenes
Get to know the real Jessica Pegula. The good, the bad, and hilarious.
Access to all classes for $15/month (billed annually)
Explore other classes
Watch hundreds of lessons from the best as they share their stories, instruction, drills, failures, and successes.
Access to all classes for $15/month (billed annually). 100% satisfaction guaranteed.
GET STARTED
Enjoy from anywhere,
at anytime, on any device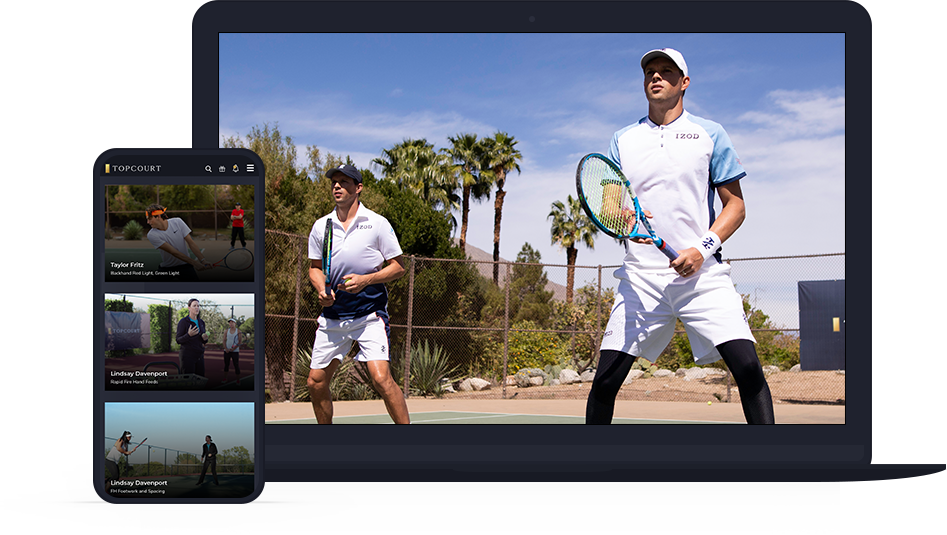 Get a TopCourt annual membership.
Access to all classes for $15/month (billed annually)
GET STARTED
JOIN THE GLOBAL MOVEMENT
Grow stronger together, no matter where you are in the world.
Frequently asked questions
TopCourt is a streaming platform that makes it possible for anyone to look into the life, mind, and performance of the top tennis pros. Drills, stories, behind the scenes events, and instructional videos are available anytime, anywhere on your smartphone, personal computer, and other streaming media players.
Membership includes access to an incredible catalog of 100+ drills, instructional videos, personal stories, and behind the scenes footage led by the world's top tennis professionals.

Each pro shares their best-kept secrets to mastering the game of tennis in a way you've never seen before. You'll learn world-class technique for all shots in the game, off court preparation and fitness regimens, mental strategies to get you through tough matches, and lots more so you finish on top.
With TopCourt, you can learn and be inspired anytime, anywhere, including your smartphone, personal computer, and other streaming media players. Watch at your own pace and unleash your full potential.
The annual membership starts at just $180 and provides unlimited access to all pros and new pros as they launch. All TopCourt memberships include unlimited streaming, high-definition videos, and special rewards for getting started.

Additional exclusive tennis experiences are available through our TopCourt Gold membership to get you closer to the game than ever before.
If you don't want to continue, you can cancel your membership renewal through your account page. Follow the prompts to cancel on the Settings page, and your membership will not renew. Please note that there aren't refunds for partially unused membership periods.

If you have more questions, don't hesitate to reach out to us at [email protected] We're happy to help in anyway we can!
Yes! Our team is continuously adding the world's top pros and coaches to the platform to ensure you stay ahead of the curve. With new content launching regularly, you can learn new skills, ignite your passions, and play the game better than ever before.

As a member, you can even win the chance to join us on set as a VIP guest and hang with the pros. We hope to see you there!
TopCourt offers instruction, drills, stories and more from a variety of current and former champions and world-class coaches. All of our videos are designed to be accessible for people with little to no experience and advanced professionals alike. If you're a tennis fan, or looking to unleash your potential, TopCourt is an absolute must have!