Nick Kyrgios
Highest Ranking #13
Athletes are often defined by the opinion of others without understanding the full scope of their mind, body and experiences. Now the Australian enigma, Nick Kyrgios is here to set his record straight. From candid insight on his personal experiences to the signature shots that have mystified tennis fans throughout his career, this is a class that will inspire you to rediscover your own joy in the game. Join Nick as he discusses his triumphs, struggles, and his relationship with the game that has brought him to global stardom.
Class Trailer
Class Preview
Stories
Meet your new instructor: the rebellious and enigmatic Australian, Nick Kyrgios. From humble origins begins the story of one this generation's most gifted and often misunderstood athletes.
As a talented and sometimes mouthy teenager, Nick was told repeatedly that his style, attitude, and fitness wouldn't allow him to succeed. Amidst the doubt, Nick's success continued and he would ascend to junior world #1 proving many of his doubters wrong but the question that still remained, would it last.
Becoming the top ranked junior in the world and captivating the world during a Wimbledon 4th round epic against Nadal thrust Nick into the global spotlight. As his fame continued to rise and life's normalities forever changed, Nick admits he was not ready to take that on, but what 18 year old is?
With his world changing around him, Nick was often searching for his own outlets and answers to emotions that most are able to battle in private. Nick discusses his battles with himself and his journey to stay himself and not allow the words of others to define who he is.
Tennis at any level demands that every player learns how to properly deal with negative results whether that's a loss, an error, an injury, or a bad line call. Nick discusses the beauty he sees in the sport and how he keeps his perspective amongst the self inflicted or external self doubt he experiences.
While Nick has always tried to stay true to himself, he recognizes that he is a role model and looked up to by kids all over the world. His ambition is to continue to use his platform and through his foundation show kids that there is no predetermined path to success and to stay true to their authentic selves.
Amongst the noise, Nick tries to take his life and career day by day by focusing on what's in front of him and keeping his eye on the big pictures. Through his foundation, Nick continues to spread his message and gives kids a safe place to play sport and teach them that no dream is too big.
While many pundits choose to label Nick's pre match preparation as laissez-faire and unprofessional, they may not realize just how switched on Nick truly is. In tennis as in life, it's never smart to judge a book by its cover.
Drills
Dominating the court with your forehand requires you to be comfortable hitting different targets with a variety of spin and depth out of your backhand corner. Nick shows you his favorite forehand drill to help you develop your run around forehand and put the pressure on your opponent.
Instruction
With one of the games most powerful serves, Nick relies on his technique and explosiveness to generate power and win free points off his serve. Here he will take you through every step of his service motion, from his pre serve routine, to his finishing position in order to help you hone your own technique and create effortless power.
Nick first played this serve against Nadal in 2019 to get a superior player out of his game and rhythm. The gamble paid off and Nick went on to win that match and is now here to show you the tricks to execute the most effective underarm serve.
Whether you need to pull off the tweener as a last resort to retrieve a lob or you just want to show off your skills on the court, Nick is here to share his tips and secrets to help you master the tweener.
Whether you're a power hitter from the baseline and you want to add variety to your game or if you're a feel player that tries to move your opponent around the court. Nick is here to show you the tips and secrets to an effective and well timed drop shot.
Behind The Scenes
Get to know the real Nick Kyrgios. The good, the bad, and hilarious.
Nick explains what his diet is on and off the court.
Nick explains what he is feeling and thinking 30 minutes before a match.
Nick explains what racquet he uses, what strings he uses, and why.
Access to all classes for $15/month (billed annually)
Explore other classes
Watch hundreds of lessons from the best as they share their stories, instruction, drills, failures, and successes.
Access to all classes for $15/month (billed annually). 100% satisfaction guaranteed.
GET STARTED
Enjoy from anywhere,
at anytime, on any device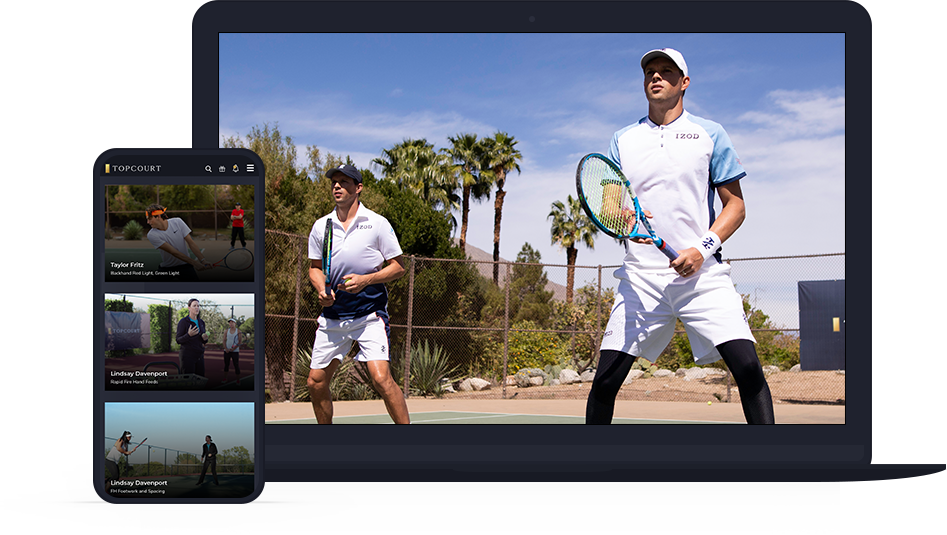 Get a TopCourt annual membership.
Access to all classes for $15/month (billed annually)
GET STARTED
JOIN THE GLOBAL MOVEMENT
Grow stronger together, no matter where you are in the world.
Frequently asked questions
TopCourt is a streaming platform that makes it possible for anyone to look into the life, mind, and performance of the top tennis pros. Drills, stories, behind the scenes events, and instructional videos are available anytime, anywhere on your smartphone, personal computer, and other streaming media players.
Membership includes access to an incredible catalog of 100+ drills, instructional videos, personal stories, and behind the scenes footage led by the world's top tennis professionals.

Each pro shares their best-kept secrets to mastering the game of tennis in a way you've never seen before. You'll learn world-class technique for all shots in the game, off court preparation and fitness regimens, mental strategies to get you through tough matches, and lots more so you finish on top.
With TopCourt, you can learn and be inspired anytime, anywhere, including your smartphone, personal computer, and other streaming media players. Watch at your own pace and unleash your full potential.
The annual membership starts at just $180 and provides unlimited access to all pros and new pros as they launch. All TopCourt memberships include unlimited streaming, high-definition videos, and special rewards for getting started.

Additional exclusive tennis experiences are available through our TopCourt Gold membership to get you closer to the game than ever before.
If you don't want to continue, you can cancel your membership renewal through your account page. Follow the prompts to cancel on the Settings page, and your membership will not renew. Please note that there aren't refunds for partially unused membership periods.

If you have more questions, don't hesitate to reach out to us at [email protected] We're happy to help in anyway we can!
Yes! Our team is continuously adding the world's top pros and coaches to the platform to ensure you stay ahead of the curve. With new content launching regularly, you can learn new skills, ignite your passions, and play the game better than ever before.

As a member, you can even win the chance to join us on set as a VIP guest and hang with the pros. We hope to see you there!
TopCourt offers instruction, drills, stories and more from a variety of current and former champions and world-class coaches. All of our videos are designed to be accessible for people with little to no experience and advanced professionals alike. If you're a tennis fan, or looking to unleash your potential, TopCourt is an absolute must have!