Sloane Stephens
2017 US Open Champion
Not many athletes get to live their dream. At just 19 years old Sloane Stephens lived hers and won the 2017 US Open. Now the Grand Slam champion is here to share her story, and show you the drills and fundamentals that lead her to stardom. From the detailed technique of her most dominant shots to the drills she works on with her coach daily, you'll learn what it takes to become a US Open Champion.
Class Trailer
Class Preview
Stories
Meet your new instructor: US Open Champion, Sloane Stephens. What started as an after school hobby set her off on a journey of a lifetime.
Discipline and consistency propelled Sloane's game to new heights early in her career. Listen as she describes her daily schedule and what parts of her game she focused on as a junior.
After an eye opening experience visiting the US Open for the first time as a fan, her next experience as a player was eye opening in different ways. Sloane shares her experiences playing the junior Grand Slams and her peer group that always pushed her to be the best.
When you have big dreams it's hard to stay focused on what is in front of you. Sloane discusses how some early predictions of her future actually helped her stay focused in the present and just getting better each day.
After turning professional, Sloane saw success making deep runs into tournaments but her first trophy was eluding her. She discusses how setting short term goals and long term goals kept her focused on the big picture and the results would come.
Coming off an injury and 11 months away from competition, Sloane had modest expectations going into the 2017 US Open. At the end of those 2 weeks in New York City she would leave with a lifelong dream fulfilled.
There is a fine balance between being content and striving for more. Sloane discusses how she stays motivated after already accomplishing so much in her young career and how she values her platform as a role model to the younger generation aspiring to be great.
Drills
Movement and shot selection are key to developing a well rounded game and this drill works has it all. Sloane shows you how to put in the work and get your movement on point.
Playing an aggressive returner can put you on your back foot to start the point but this drill will help train your reaction time and stay in control. Stay ahead of your opponent with this drill that works on staying balanced and ready for a strong return.
Warming up for a practice or a match shouldn't be overlooked. Sloane shows you how she starts each practice to eliminate mistakes, get her body moving and her mind sharp for practice or competition.
Turn your return into a weapon by mastering this return. Sloane teaches you how to develop your backhand down the line return to put your opponent on the defense from the start.
Instruction
Sloane details step by step the keys to her signature shot and the strategic benefits of mastering the inside out forehand.
Why is mastering your backhand down the line so important? Sloane explains the dos and don'ts of the down the line backhand and why it is such an important shot to master.
Behind The Scenes
Get to know the real Sloane. The good, the bad, and hilarious.
Access to all classes for $15/month (billed annually)
Explore other classes
Watch hundreds of lessons from the best as they share their stories, instruction, drills, failures, and successes.
Access to all classes for $15/month (billed annually). 100% satisfaction guaranteed.
GET STARTED
Enjoy from anywhere,
at anytime, on any device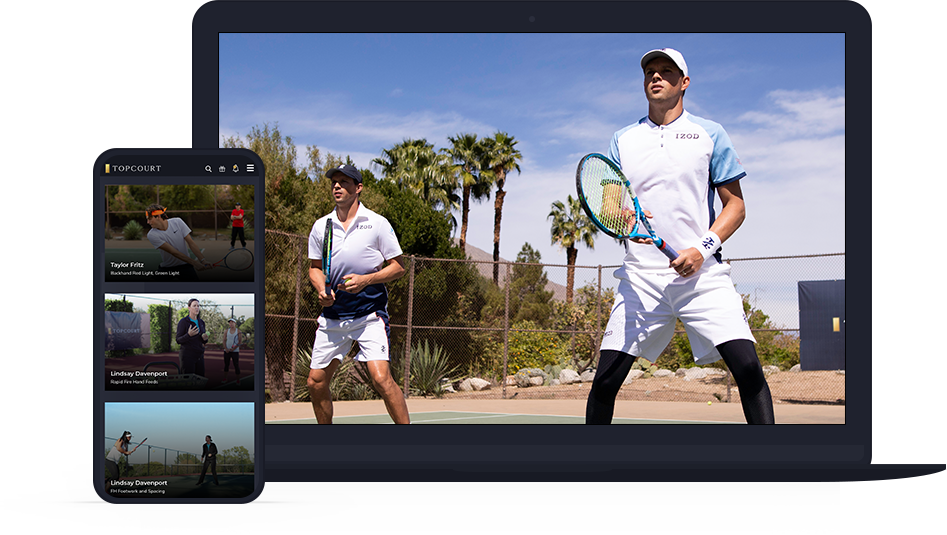 Get a TopCourt annual membership.
Access to all classes for $15/month (billed annually)
GET STARTED
JOIN THE GLOBAL MOVEMENT
Grow stronger together, no matter where you are in the world.
Frequently asked questions
TopCourt is a streaming platform that makes it possible for anyone to look into the life, mind, and performance of the top tennis pros. Drills, stories, behind the scenes events, and instructional videos are available anytime, anywhere on your smartphone, personal computer, and other streaming media players.
Membership includes access to an incredible catalog of 100+ drills, instructional videos, personal stories, and behind the scenes footage led by the world's top tennis professionals.

Each pro shares their best-kept secrets to mastering the game of tennis in a way you've never seen before. You'll learn world-class technique for all shots in the game, off court preparation and fitness regimens, mental strategies to get you through tough matches, and lots more so you finish on top.
With TopCourt, you can learn and be inspired anytime, anywhere, including your smartphone, personal computer, and other streaming media players. Watch at your own pace and unleash your full potential.
The annual membership starts at just $180 and provides unlimited access to all pros and new pros as they launch. All TopCourt memberships include unlimited streaming, high-definition videos, and special rewards for getting started.

Additional exclusive tennis experiences are available through our TopCourt Gold membership to get you closer to the game than ever before.
If you don't want to continue, you can cancel your membership renewal through your account page. Follow the prompts to cancel on the Settings page, and your membership will not renew. Please note that there aren't refunds for partially unused membership periods.

If you have more questions, don't hesitate to reach out to us at [email protected] We're happy to help in anyway we can!
Yes! Our team is continuously adding the world's top pros and coaches to the platform to ensure you stay ahead of the curve. With new content launching regularly, you can learn new skills, ignite your passions, and play the game better than ever before.

As a member, you can even win the chance to join us on set as a VIP guest and hang with the pros. We hope to see you there!
TopCourt offers instruction, drills, stories and more from a variety of current and former champions and world-class coaches. All of our videos are designed to be accessible for people with little to no experience and advanced professionals alike. If you're a tennis fan, or looking to unleash your potential, TopCourt is an absolute must have!