Mackenzie McDonald
Highest Ranking #57
At age three, young Mackenzie McDonald already had a racquet in his hand and developed a love, and passion for the game. That passion and the determination to be great never wavered even through injuries and setbacks. Now the former UCLA Bruin, and NCAA singles and doubles champion is here to tell his story. Join Mackenzie as he shares the drills and techniques that took him from dominating college tennis to chasing his dreams on the pro tour.
Class Trailer
Class Preview
Stories
Meet your new instructor: 2016 NCAA singles and doubles champion, Mackenzie McDonald. Dedicating his life to the game, Mackenzie's road to the professional tour included a stop at UCLA where he dominated college tennis. Join him as he shares his journey and the decision to attend college in pursuit of his dreams as a pro.
At a young age, Mackie was already an elite junior player. He attributes his early success to sound fundamentals developed by his first coach, Rosie Bareis, and the simple drills she used to help him understand consequence on the court.
As a sophomore in High School, Mackie and his family made the decision to transition to online school in order to dedicate more time to his tennis. Here, he discusses the pros and cons to that decision and his advice to juniors trying to make the same call.
Making the decision to go pro or go to college weighed heavily on Mackie. Having multiple voices in his head pulling him in both directions was daunting, and at times overwhelming for him. Listen as he discusses what went into the decision, the stress that was brought about, and ultimately how he made the right call.
Even with his eyes set on being a pro, Mackie always saw the benefit of keeping college as an option, and in the end that was the path for him. Here he discusses the benefits of attending college, and the experience that UCLA provided for him.
After solid seasons at UCLA as a Freshman and Sophomore, Mackie made the decision to return to school for his Junior year. That decision to return led to an almost perfect season, and an NCAA singles, and doubles championship.
After finishing at the top of college tennis following his Junior year, Mackie was ready to turn pro, turning his childhood dream of being a pro into reality. Now the work really began.
3 years into his career, Mackie was seeing good results, and was climbing up the ranks of the ATP tour when injury struck. Back in good health, Mackie has his eyes on the future, and gives advice to players about realizing the big picture.
Drills
Whether movement is your strength or your weakness, this drill will get you moving quicker, and more efficiently to the ball. Work on your movement, conditioning, and timing with this drill that Mackie still utilizes in his practices today.
As a young player, Mackie's first coach Rosie Bareis taught him the importance of consistency, and consequence with this fun target drill. Get creative and use this drill to work on consistency, and hitting your spots.
This drill may seem simple at first, but understanding the importance of recognizing your opponent's ball, and moving efficiently throughout the court will pay dividends if done correctly. Mackie shows you a simple variation of this drill to help him work on his movement, and shot selection.
Instruction
One of Mackie's signature shots is his aggressive flat forehand. Here he discusses the techniques, and fundamentals needed to execute this shot as well as his advice on shot selection.
As a kid, Mackie started every lesson with volleys. His first coach helped Mackie develop sound fundamentals on his volleys which has always given him the confidence to come forward, and finish points at net.
Behind The Scenes
Get to know the real Mackie McDonald. The good, the bad, and hilarious.
Access to all classes for $15/month (billed annually)
Explore other classes
Watch hundreds of lessons from the best as they share their stories, instruction, drills, failures, and successes.
Access to all classes for $15/month (billed annually). 100% satisfaction guaranteed.
GET STARTED
Enjoy from anywhere,
at anytime, on any device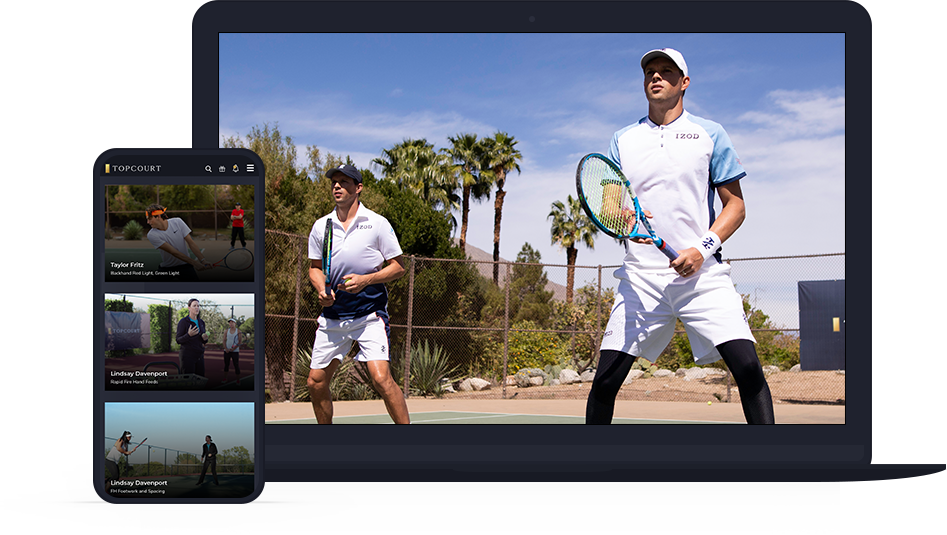 Get a TopCourt annual membership.
Access to all classes for $15/month (billed annually)
GET STARTED
JOIN THE GLOBAL MOVEMENT
Grow stronger together, no matter where you are in the world.
Frequently asked questions
TopCourt is a streaming platform that makes it possible for anyone to look into the life, mind, and performance of the top tennis pros. Drills, stories, behind the scenes events, and instructional videos are available anytime, anywhere on your smartphone, personal computer, and other streaming media players.
Membership includes access to an incredible catalog of 100+ drills, instructional videos, personal stories, and behind the scenes footage led by the world's top tennis professionals.

Each pro shares their best-kept secrets to mastering the game of tennis in a way you've never seen before. You'll learn world-class technique for all shots in the game, off court preparation and fitness regimens, mental strategies to get you through tough matches, and lots more so you finish on top.
With TopCourt, you can learn and be inspired anytime, anywhere, including your smartphone, personal computer, and other streaming media players. Watch at your own pace and unleash your full potential.
The annual membership starts at just $180 and provides unlimited access to all pros and new pros as they launch. All TopCourt memberships include unlimited streaming, high-definition videos, and special rewards for getting started.

Additional exclusive tennis experiences are available through our TopCourt Gold membership to get you closer to the game than ever before.
If you don't want to continue, you can cancel your membership renewal through your account page. Follow the prompts to cancel on the Settings page, and your membership will not renew. Please note that there aren't refunds for partially unused membership periods.

If you have more questions, don't hesitate to reach out to us at [email protected] We're happy to help in anyway we can!
Yes! Our team is continuously adding the world's top pros and coaches to the platform to ensure you stay ahead of the curve. With new content launching regularly, you can learn new skills, ignite your passions, and play the game better than ever before.

As a member, you can even win the chance to join us on set as a VIP guest and hang with the pros. We hope to see you there!
TopCourt offers instruction, drills, stories and more from a variety of current and former champions and world-class coaches. All of our videos are designed to be accessible for people with little to no experience and advanced professionals alike. If you're a tennis fan, or looking to unleash your potential, TopCourt is an absolute must have!