Belinda Bencic
2020 Olympic Gold Medalist
From the courts of Switzerland to the top 10, Belinda Bencic's quick rise to the biggest stages of tennis captured the world. Now she is here to share her experiences on and off the court to help players reach for their dreams. From her meteoric rise to the top 10 before age 23, Belinda takes us through her journey and will teach you specific shots and drills she works on daily.
Class Trailer
Class Preview
Stories
Meet your new instructor: Swiss phenom, Belinda Bencic. At age 6, Belinda started training with her tennis idol, Martina Hingis', mother. She was born with a passion for the game. Learn about her journey and her fight to get to #1.
Even from a young age, Belinda was a year or two ahead of her peers. Learn about her early years and how she came to have one of the most unique playing styles in the world.
Gaining experience and playing older competition were key to Belinda's development. Learn how she used those experiences to grow to become one of the best junior tennis players in the world.
Belinda discusses her first years on tour and how playing with freedom and confidence allowed her quick success. Belief and confidence are important traits that can determine a player's success.
Life on tour isn't always as it seems. Belinda discusses the injuries of a pro on tour. Learning to appreciate the game and learning from the bad times made her a better person and player.
Staying in the top 10 is a goal for Belinda. When you put in the work, the ranking is just a reflection of all the hard work.
What did Martina Hingis mean to Swiss tennis? Learn how she inspired a generation of tennis players, including Belinda Bencic. Belinda also reflects on her time in the Hopman Cup and shares stories about her times with Roger Federer.
Drills
Belinda shows one of the most important drills that has helped her shape her game over the years.
Belinda shows a drill that is great for movement and changing direction.
Instruction
Belinda walks you through her execution of hitting an open stance forehand. This shot makes Belinda one of the most unique and dangerous players in the world.
Belinda walks you through her execution of hitting an open stance backhand.
Belinda explains how great anticipation is so important to her success.
Behind The Scenes
Get to know the real Belinda. The good, the bad, and hilarious.
Access to all classes for $15/month (billed annually)
Explore other classes
Watch hundreds of lessons from the best as they share their stories, instruction, drills, failures, and successes.
Access to all classes for $15/month (billed annually). 100% satisfaction guaranteed.
GET STARTED
Enjoy from anywhere,
at anytime, on any device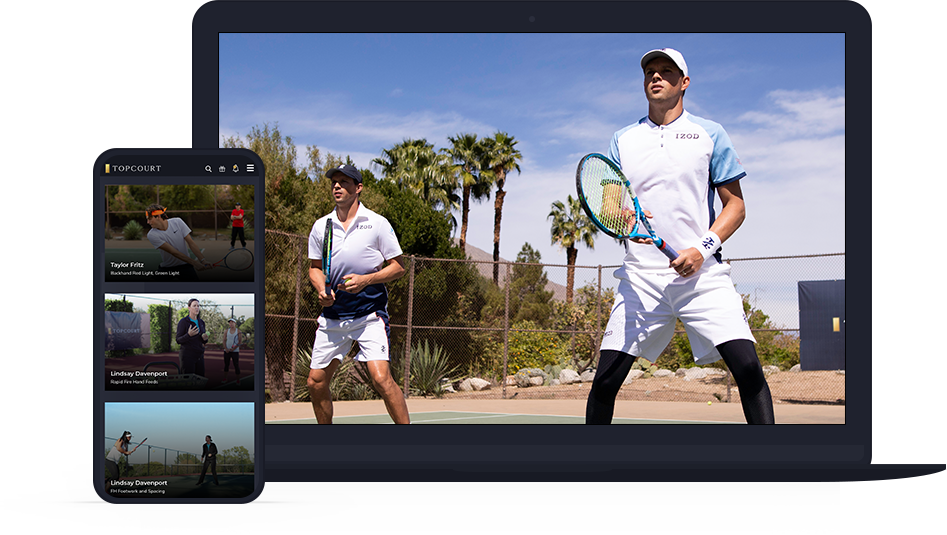 Get a TopCourt annual membership.
Access to all classes for $15/month (billed annually)
GET STARTED
JOIN THE GLOBAL MOVEMENT
Grow stronger together, no matter where you are in the world.
Frequently asked questions
TopCourt is a streaming platform that makes it possible for anyone to look into the life, mind, and performance of the top tennis pros. Drills, stories, behind the scenes events, and instructional videos are available anytime, anywhere on your smartphone, personal computer, and other streaming media players.
Membership includes access to an incredible catalog of 100+ drills, instructional videos, personal stories, and behind the scenes footage led by the world's top tennis professionals.

Each pro shares their best-kept secrets to mastering the game of tennis in a way you've never seen before. You'll learn world-class technique for all shots in the game, off court preparation and fitness regimens, mental strategies to get you through tough matches, and lots more so you finish on top.
With TopCourt, you can learn and be inspired anytime, anywhere, including your smartphone, personal computer, and other streaming media players. Watch at your own pace and unleash your full potential.
The annual membership starts at just $180 and provides unlimited access to all pros and new pros as they launch. All TopCourt memberships include unlimited streaming, high-definition videos, and special rewards for getting started.

Additional exclusive tennis experiences are available through our TopCourt Gold membership to get you closer to the game than ever before.
If you don't want to continue, you can cancel your membership renewal through your account page. Follow the prompts to cancel on the Settings page, and your membership will not renew. Please note that there aren't refunds for partially unused membership periods.

If you have more questions, don't hesitate to reach out to us at [email protected] We're happy to help in anyway we can!
Yes! Our team is continuously adding the world's top pros and coaches to the platform to ensure you stay ahead of the curve. With new content launching regularly, you can learn new skills, ignite your passions, and play the game better than ever before.

As a member, you can even win the chance to join us on set as a VIP guest and hang with the pros. We hope to see you there!
TopCourt offers instruction, drills, stories and more from a variety of current and former champions and world-class coaches. All of our videos are designed to be accessible for people with little to no experience and advanced professionals alike. If you're a tennis fan, or looking to unleash your potential, TopCourt is an absolute must have!