Caty McNally
Highest Ranking #38
Growing up, there was little doubt Caty McNally's future would be bright. Now the young American is spreading her wings on the WTA tour. With her all-court aggressive game, Caty plays a brand of tennis not commonly seen on the women's tour. Under the tutelage of her mother, a former touring pro, Caty flourished on the junior circuit, winning two grand slam doubles titles with Iga Swiatek and Coco Gauff, and is translating that success to the WTA tour. Join Caty as she shares the knowledge, and fundamentals that helped set herself apart, and gave her the confidence to play her brand of tennis.
Class Trailer
Class Preview
Stories
Meet your new instructor: one of the USA's youngest rising stars on the WTA tour, Caty McNally. Join Caty as she discusses her upbringing and the family values that set the foundation to her success.
Caty learned the game from her mother, who was a former pro and still coaches her to this day. Thanks to her mother Lynn, Caty spent time working on parts of the game that are often neglected at an early age and is paying big dividends today.
Every kid dreams of becoming a professional athlete, but few make it that far. Having dreams doesn't always translate into belief, listen as Caty describes her journey to believing she could live her dreams.
Winning is a lot more fun with friends beside you. Caty describes her friendship with fellow superstar, CoCo Gauff, and how they always keep things fun
Life brings adversity whether you're a professional athlete or going through your senior year of high school. Caty discusses the importance of having a strong support system and how her All-American brother has been there for her on and off the court.
Whether it's on the court or in the gym, Caty values quality over quantity. Caty discusses her daily schedule and the things she's working on in practice on a daily basis.
Drills
Work on your reflexes and footwork closing the net with one of Caty's favorite drills. Don't be afraid of the ball and get as close to the net as possible.
Caty shows you a key drill to help get her comfortable moving forward through her zones and finish points at the net. It may look like a simple drill but incorporate this into your practice and you'll find yourself winning points at the net in your matches.
Add the slice to your offensive playbook to keep your opponent off balance and generate a ball that you can attack. Caty shows you a drill to get comfortable using your slice with an offensive mindset.
Instruction
Caty teaches you the fundamentals behind one of her biggest strengths, the volley. These are the same keys she learned as a young girl and still works on today.
Caty learned early on to split the court into 5 zones to help her with shot selection and point building. Listen as she describes each zone, the shots to hit out of them, and how to better understand your game.
Behind The Scenes
Get to know the real Caty. The good, the bad, and hilarious.
Access to all classes for $15/month (billed annually)
Explore other classes
Watch hundreds of lessons from the best as they share their stories, instruction, drills, failures, and successes.
Access to all classes for $15/month (billed annually). 100% satisfaction guaranteed.
GET STARTED
Enjoy from anywhere,
at anytime, on any device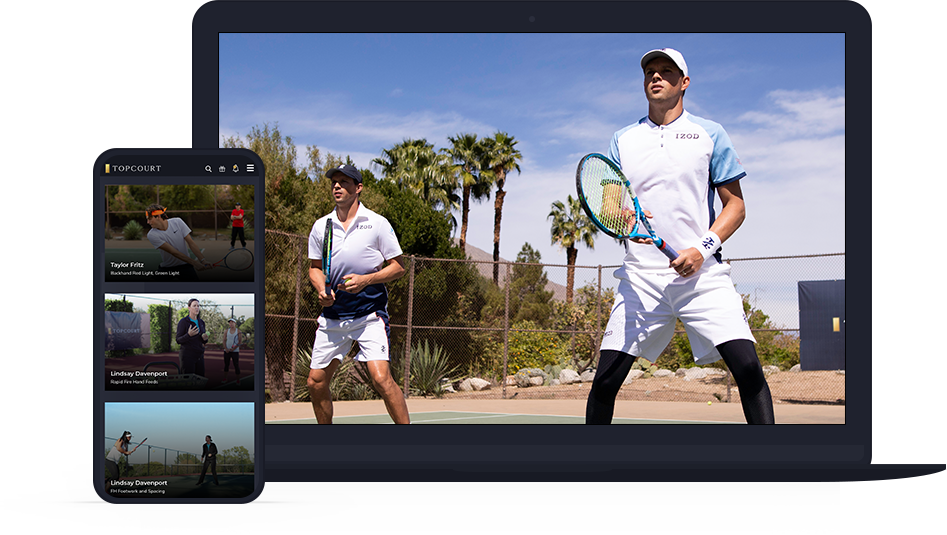 Get a TopCourt annual membership.
Access to all classes for $15/month (billed annually)
GET STARTED
JOIN THE GLOBAL MOVEMENT
Grow stronger together, no matter where you are in the world.
Frequently asked questions
TopCourt is a streaming platform that makes it possible for anyone to look into the life, mind, and performance of the top tennis pros. Drills, stories, behind the scenes events, and instructional videos are available anytime, anywhere on your smartphone, personal computer, and other streaming media players.
Membership includes access to an incredible catalog of 100+ drills, instructional videos, personal stories, and behind the scenes footage led by the world's top tennis professionals.

Each pro shares their best-kept secrets to mastering the game of tennis in a way you've never seen before. You'll learn world-class technique for all shots in the game, off court preparation and fitness regimens, mental strategies to get you through tough matches, and lots more so you finish on top.
With TopCourt, you can learn and be inspired anytime, anywhere, including your smartphone, personal computer, and other streaming media players. Watch at your own pace and unleash your full potential.
The annual membership starts at just $180 and provides unlimited access to all pros and new pros as they launch. All TopCourt memberships include unlimited streaming, high-definition videos, and special rewards for getting started.

Additional exclusive tennis experiences are available through our TopCourt Gold membership to get you closer to the game than ever before.
If you don't want to continue, you can cancel your membership renewal through your account page. Follow the prompts to cancel on the Settings page, and your membership will not renew. Please note that there aren't refunds for partially unused membership periods.

If you have more questions, don't hesitate to reach out to us at [email protected] We're happy to help in anyway we can!
Yes! Our team is continuously adding the world's top pros and coaches to the platform to ensure you stay ahead of the curve. With new content launching regularly, you can learn new skills, ignite your passions, and play the game better than ever before.

As a member, you can even win the chance to join us on set as a VIP guest and hang with the pros. We hope to see you there!
TopCourt offers instruction, drills, stories and more from a variety of current and former champions and world-class coaches. All of our videos are designed to be accessible for people with little to no experience and advanced professionals alike. If you're a tennis fan, or looking to unleash your potential, TopCourt is an absolute must have!