Felix Auger-Aliassime
Highest Ranking #10
Once an up and coming star on the ATP Tour, Felix Auger-Aliassime is here to stay. With maturity beyond his years and his eyes on the future, there is no limit to his potential. Now the charismatic young Canadian is here to show you the side of him you've never seen before. Join Felix as he shares the secrets to easy power on your forehand, and the unparalleled work ethic that has him on the cusp of greatness so you can find the greatness and power within your game.
Class Trailer
Class Preview
Stories
Meet your new instructor, a rising superstar on the ATP Tour, Felix Auger-Aliassime. From day one, Felix's father instilled a belief in him that he could accomplish his dreams but warned him that the journey would be long and difficult.
Like many young players, emotions often got the best of Felix, especially after a loss. Felix reflects on his attitude on the court during his early days and gives you his advice on how to learn and grow from those moments.
Being the son of a tennis coach and a school teacher, Felix's upbringing revolved around more than just his tennis which contributed to his well-rounded development. Here Felix shares what his days were like growing up, not only on the tennis court but also at home.
In 2015, Felix became the youngest player to earn ATP Tour ranking points by making the quarterfinals of his first ATP event in just 14 years, bringing predictions of a bright future. The hard work and determination in his early career culminated when he won the junior US Open, validating his potential for the media and himself.
Getting a call to spend a week training with Felix's childhood idol, Roger Federer, was a life-changing experience. Listen as he shares his experiences from that week and what he learned from one of the greatest of all time.
Setting the bar high with lofty ambitions can often result in falling short of those goals. Felix reflects on his mindset when setting goals and how to persevere through disappointment.
Felix looks at every day as an opportunity to get better. Consistency in his engagement, work ethic, and focus is an attribute that he's seen in the best players in the world, and he strives to maintain that consistency throughout his life and career.
Perfecting any craft at the highest level requires a tremendous amount of work. Felix describes the lifestyle of being a professional athlete and the training schedule he follows during his rigorous training blocks.
Taking inspiration from Rafael Nadal, Felix describes the importance of working on your mental game every time you step on the court. Sometimes it's not your forehand or backhand that makes the difference between winning or losing; it's between the ears.
Whether you're playing in your Wednesday evening league match or on center court of a grand slam, you should go into that match with a plan and be ready for anything. Felix shares his strategies to prepare for a match and how to adjust if your game plan isn't working.
Managing your nerves on the court is something that all players struggle with. Felix shares his perspective on dealing with nerves on the court and strategies to help you execute under pressure.
At just the beginning of what looks to be a long and successful career, Felix's mindset and maturity shine through in his long-term ambitions. When it's all said and done, Felix looks to leave his mark on the game and the world.
Drills
Efficient movement and precision on your groundstrokes will pay dividends on the match court. To work on movement, consistency, and conditioning, Felix shares a simple but effective drill that has been part of his training regimen since the very beginning.
The slice is an effective way to change the rhythm of a point to produce a ball that you can attack. Here Felix shows you multiple variations of one drill that will give you the confidence to hit your slice and look to attack on the next ball.
Working on your transition to the net and becoming comfortable finishing points with a volley and overhead is vital to success for recreational players or high-performance players. Felix walks you through a five-ball pattern drill to work on every shot you'll need to dominate the court and finish your opponents off at the net.
Whether you're getting ready for an intense practice session or your Wednesday night league match, it's essential to get your body loose and ready. Felix walks you through his full body mobilization routine to make sure your body is loose and ready to perform.
You should never start a practice or match cold to stimulate your nervous system to incorporate dynamic movements to get your body moving and heart rate up. Felix shows you his pre-practice and match routine so that you can decrease your chances of injury and maximize your time on the court.
Instruction
Every great player started with a solid foundation of technique on their groundstrokes. Felix walks you through every step of the forehand to make sure your forehand is technically sound and is a weapon on the court.
The serve is the only shot that you have complete control over. Felix walks you through the fundamentals of the serve and shares key tips to give you full control as you step up to the line.
Behind The Scenes
Get to know the real Felix Auger-Aliassime. The good, the bad, and hilarious.
Felix answers the question that everyone is talking about. Who will end up as the GOAT?
Felix explains what his weapon of choice is and why.
Felix explains what his diet is on and off the court.
Access to all classes for $15/month (billed annually)
Explore other classes
Watch hundreds of lessons from the best as they share their stories, instruction, drills, failures, and successes.
Access to all classes for $15/month (billed annually). 100% satisfaction guaranteed.
GET STARTED
Enjoy from anywhere,
at anytime, on any device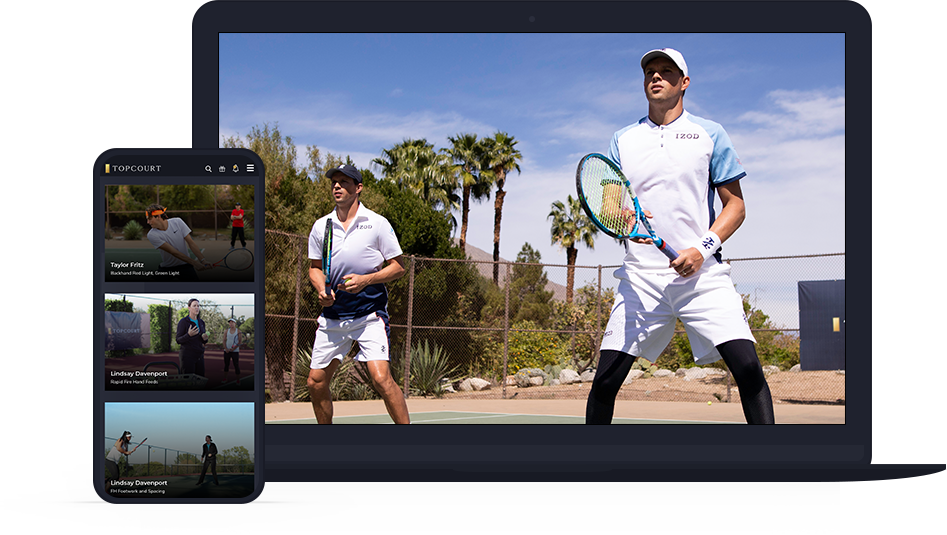 Get a TopCourt annual membership.
Access to all classes for $15/month (billed annually)
GET STARTED
JOIN THE GLOBAL MOVEMENT
Grow stronger together, no matter where you are in the world.
Frequently asked questions
TopCourt is a streaming platform that makes it possible for anyone to look into the life, mind, and performance of the top tennis pros. Drills, stories, behind the scenes events, and instructional videos are available anytime, anywhere on your smartphone, personal computer, and other streaming media players.
Membership includes access to an incredible catalog of 100+ drills, instructional videos, personal stories, and behind the scenes footage led by the world's top tennis professionals.

Each pro shares their best-kept secrets to mastering the game of tennis in a way you've never seen before. You'll learn world-class technique for all shots in the game, off court preparation and fitness regimens, mental strategies to get you through tough matches, and lots more so you finish on top.
With TopCourt, you can learn and be inspired anytime, anywhere, including your smartphone, personal computer, and other streaming media players. Watch at your own pace and unleash your full potential.
The annual membership starts at just $180 and provides unlimited access to all pros and new pros as they launch. All TopCourt memberships include unlimited streaming, high-definition videos, and special rewards for getting started.

Additional exclusive tennis experiences are available through our TopCourt Gold membership to get you closer to the game than ever before.
If you don't want to continue, you can cancel your membership renewal through your account page. Follow the prompts to cancel on the Settings page, and your membership will not renew. Please note that there aren't refunds for partially unused membership periods.

If you have more questions, don't hesitate to reach out to us at [email protected] We're happy to help in anyway we can!
Yes! Our team is continuously adding the world's top pros and coaches to the platform to ensure you stay ahead of the curve. With new content launching regularly, you can learn new skills, ignite your passions, and play the game better than ever before.

As a member, you can even win the chance to join us on set as a VIP guest and hang with the pros. We hope to see you there!
TopCourt offers instruction, drills, stories and more from a variety of current and former champions and world-class coaches. All of our videos are designed to be accessible for people with little to no experience and advanced professionals alike. If you're a tennis fan, or looking to unleash your potential, TopCourt is an absolute must have!