Paul Annacone
Coached Federer, Sampras, Fritz
Once a great player himself, and known today as one of the most successful coaches in professional tennis, Paul Annacone has had a front row seat to some of the best players in history. For the first time ever, he's sharing behind the scenes stories with legends of the game, and a one on one training session with his latest pupil, Taylor Fritz. The former coach of Pete Sampras and Roger Federer is here to teach you what it takes to be an all time great.
Class Trailer
Class Preview
Stories
Meet your new instructor: legendary coach, Paul Annacone. Join Paul as he shares his experience living his dream as a player and his unexpected second career as a coach.
As Paul's playing career was coming to an end, he stood in for an ill Tim Gullickson to coach Pete Sampras. Quickly transitioning from being a player to coaching Sampras who would go on to be one of the all time greats, Paul discusses what it's like to go from being the player to being the coach.
You don't win 14 grand slams without some magic dust. Join Paul as he discusses what sets Sampras apart from other great players through never before heard stories from behind the curtain of a 7 year coaching relationship.
Get an inside look into the life and mind of Roger Federer. Paul gives an intimate look into who Roger Federer is on and off the court.
After coaching all time greats like Sampras and Federer, starting fresh with a 19 year old Taylor Fritz presents new and exciting challenges. Paul discusses the lessons he looks to impart on Taylor and the parts of his game they are working on to take him to #1.
"Developing the Player and the Person": Paul gives his take on developing a young mind and body through three key categories. He also imparts his advice to parents raising young athletes.
Drills
Put pressure on your opponent's serve by being aggressive on the 2nd serve return. Paul shows you the keys to attacking a 2nd serve return and how to punish your opponent for missing their 1st serve.
Master the first volley with this drill to help get you comfortable moving forward through the ball and closing the net to finish the point. This is a drill Paul works on with Taylor daily.
Learn to utilize your slice to create offense with this great drill. Paul shows you how Taylor works to incorporate his slice into the rally to produce a ball he can attack.
Learn to use your 2nd serve as a weapon with this drill. Paul walks you through how Taylor uses different placement and spins on his second serve to take control of the point with the first ball.
It's important for aggressive players like Taylor Fritz to still be able to play effective defense. Paul takes Fritz to the limit in this high intensity defensive drill to help you always stay in the point.
Instruction
Stay engaged in practice from the first ball. Paul shows you how Taylor Fritz focuses on his court positioning during his warm up and how you can improve your court positioning to put pressure on your opponents.
Good court positioning gives you the opportunity to come forward. Paul and Taylor show you how to properly execute an approach and volley to finish your opponent off at net.
Behind The Scenes
Get to know the real Paul Annacone. The good, the bad, and hilarious.
Access to all classes for $15/month (billed annually)
Explore other classes
Watch hundreds of lessons from the best as they share their stories, instruction, drills, failures, and successes.
Access to all classes for $15/month (billed annually). 100% satisfaction guaranteed.
GET STARTED
Enjoy from anywhere,
at anytime, on any device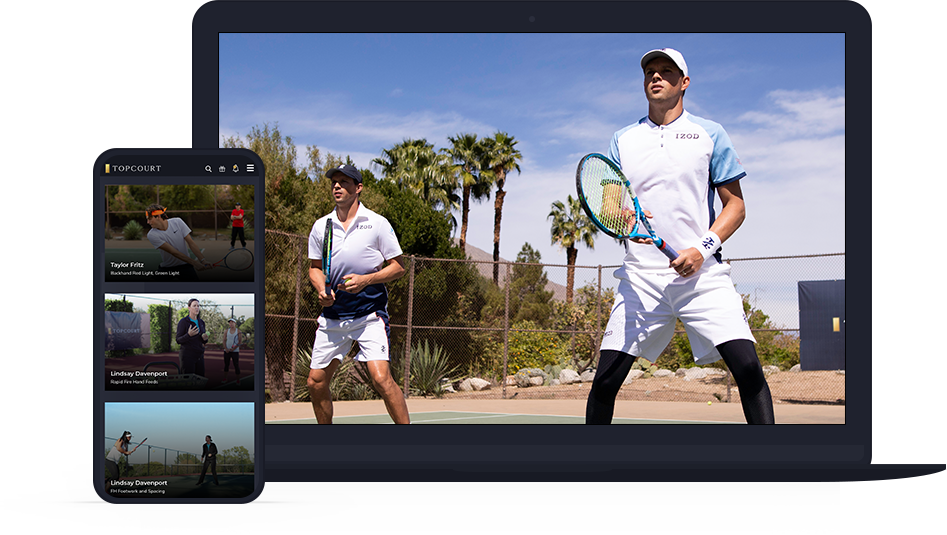 Get a TopCourt annual membership.
Access to all classes for $15/month (billed annually)
GET STARTED
JOIN THE GLOBAL MOVEMENT
Grow stronger together, no matter where you are in the world.
Frequently asked questions
TopCourt is a streaming platform that makes it possible for anyone to look into the life, mind, and performance of the top tennis pros. Drills, stories, behind the scenes events, and instructional videos are available anytime, anywhere on your smartphone, personal computer, and other streaming media players.
Membership includes access to an incredible catalog of 100+ drills, instructional videos, personal stories, and behind the scenes footage led by the world's top tennis professionals.

Each pro shares their best-kept secrets to mastering the game of tennis in a way you've never seen before. You'll learn world-class technique for all shots in the game, off court preparation and fitness regimens, mental strategies to get you through tough matches, and lots more so you finish on top.
With TopCourt, you can learn and be inspired anytime, anywhere, including your smartphone, personal computer, and other streaming media players. Watch at your own pace and unleash your full potential.
The annual membership starts at just $180 and provides unlimited access to all pros and new pros as they launch. All TopCourt memberships include unlimited streaming, high-definition videos, and special rewards for getting started.

Additional exclusive tennis experiences are available through our TopCourt Gold membership to get you closer to the game than ever before.
If you don't want to continue, you can cancel your membership renewal through your account page. Follow the prompts to cancel on the Settings page, and your membership will not renew. Please note that there aren't refunds for partially unused membership periods.

If you have more questions, don't hesitate to reach out to us at [email protected] We're happy to help in anyway we can!
Yes! Our team is continuously adding the world's top pros and coaches to the platform to ensure you stay ahead of the curve. With new content launching regularly, you can learn new skills, ignite your passions, and play the game better than ever before.

As a member, you can even win the chance to join us on set as a VIP guest and hang with the pros. We hope to see you there!
TopCourt offers instruction, drills, stories and more from a variety of current and former champions and world-class coaches. All of our videos are designed to be accessible for people with little to no experience and advanced professionals alike. If you're a tennis fan, or looking to unleash your potential, TopCourt is an absolute must have!