Chris Evert
21-Time Grand Slam Champion
Once known as the Ice Maiden for her stoic demeanor and relentless competitiveness on court, Chris Evert is one of the game's greatest champions. In her career, she's won 18 Grand Slam singles titles, once going 13 consecutive years winning at least one Grand Slam. Now the International Tennis Hall of Famer is here to teach you the fundamentals every player needs to elevate their game. From her signature two-handed backhand to her drop shot, Chris is going to take you step by step through every stroke in the game. Beyond the court, Chris candidly shares the pitfalls of young stardom, and gives you an inside look into the biggest moments of her career. This is a class you don't want to miss.
Class Trailer
Class Preview
Stories
Meet your new instructor: 18 time Grand Slam singles champion, Chris Evert. Growing up in the Evert household, tennis wasn't pushed upon the children as a means to an end but as an activity to bring the family together.
5 year old Chris Evert was like any other young girl wanting to go swimming, play with friends, and enjoy her childhood. Soon she would find enjoyment on the tennis court, but that joy didn't come right away.
At 13 years old, Chris played her first professional tournament. That experience opened her eyes to the possibilities that laid before her, giving her the confidence to not only set goals for the national stage, but for the world stage.
As a young player, Chris was known to have a hot temper, not the stoic, emotionless on court assassin many remember her to be. Listen as she shares the conversation with her father that changed that, and allowed her to hide her weaknesses from opponents to always maintain the upper hand.
In her first Wimbledon, Chris showed off her stoic on court demeanor much to the surprise of the British fans who could not believe that a 17 year old showed so little emotion. Dubbed by the British press as the Ice Maiden, a nickname that made headlines, Chris discusses her on court mentality, and the importance of understanding how you compete best.
One of the game's most storied rivalries, Chris Evert and Martina Navratilova played 80 times throughout their careers. It was a true story of contrast, listen as Chris describes the rivalry, and what Martina meant to her career.
Going into the 1985 French Open at 30 years old, many believed Chris's career was in its final stages. Her incredible run to the finals set up a rematch of the previous year's showdown with Martina Navratilova. Listen as Chris relives that epic final, and she was able to overcome a 13 match losing streak against Martina to capture her 6th French Open title.
History remembers Chris as one of the game's toughest competitors, both on the court and mentally. Reflecting back on her career, Chris discusses the mental side of the game, the invaluable power of belief, and how to handle pressure.
Looking back on a career which included 18 Grand Slam titles, winning 125 matches in a row on clay, and reaching the semi finals or better in 56 Grand Slams in a row, many don't see the struggle behind the curtain. Chris discusses what many saw as robotic performance was not always as easy, or simple as it looked.
As her career came to an end Chris struggled separating herself from the perfectionist champion persona she had created over her storied career. Through time she has realized what is truly important, and how she wants to be remembered on, and off the court.
Drills
No matter if you're a beginner or a professional, movement is one of the most important aspects of the game. Improve your movement, reaction time, and conditioning with this old school drill.
The serve is the only stroke in tennis that you have full control over, sometimes that may lead you to overthink your technique. Quiet your mind, and let your body do the work with this great serve drill.
Getting back quickly, and in good position on the overhead drastically improves your chances to put the ball away or produce a volley to put away. Improve your explosiveness, and conditioning while maintaining good technique with this simple but effective drill.
In match play, shot selection is crucial to give yourself the best chance for success when hitting an offensive shot. This drill will help you get comfortable in a live ball scenario, being patient and waiting for your opportunity to take your backhand down the line to get your opponent on the run.
Tie breaks are a sprint to the finish, and no point can be wasted. Here Chris coaches WTA player Ajla Tomljanovic through a tie break against former ATP pro Jesse Levine.
When you have a lead there is no time to relax, always buckle down and extend the lead. Here Chris coaches Ajla through a tiebreak against Jesse, where she gains the lead but lets it slip aways.
With a set or a match on the line, there is no time to be timid in a tie break. Here Chris coaches Ajla through a tie break against Jesse, putting an emphasis on committing to her shots, and playing to your opponents weakness.
Instruction
As one of the few players on tour at the time with two hands on the backhand, Chris Evert helped revolutionize the game. Now she's here to teach you the fundamentals behind her signature stroke, and take you step by step to help you find more confidence, and consistency with your backhand.
No matter what your level is, having a solid return could be the difference in winning, and losing. Chris takes you through her technique, and strategy to help you win more points with your return.
Solid fundamentals are key to having confidence at the net. Chris breaks down the volley for you step by step, to teach you the fundamentals, and perfect technique needed to master the volley.
Add variety to your game, and get your opponents on the move with the drop-shot. Chris will take you through the technique, and fundamentals you need to execute the perfect drop-shot.
Learn how Chris adapted her grip, technique, and fundamentals to the modern game, and how you can develop a consistent, powerful forehand. The 18 time Grand Slam champion teaches the fundamentals you'll need to turn your forehand into your go to shot.
Learn the fundamentals, and tips to a successful serve from an 18 time Grand Slam champion. Chris breaks down the serve step by step, from the toss to the follow through so you can master the fundamentals on your serve.
Behind The Scenes
Get to know the real Chris Evert. The good, the bad, and hilarious.
Access to all classes for $15/month (billed annually)
Explore other classes
Watch hundreds of lessons from the best as they share their stories, instruction, drills, failures, and successes.
Access to all classes for $15/month (billed annually). 100% satisfaction guaranteed.
GET STARTED
Enjoy from anywhere,
at anytime, on any device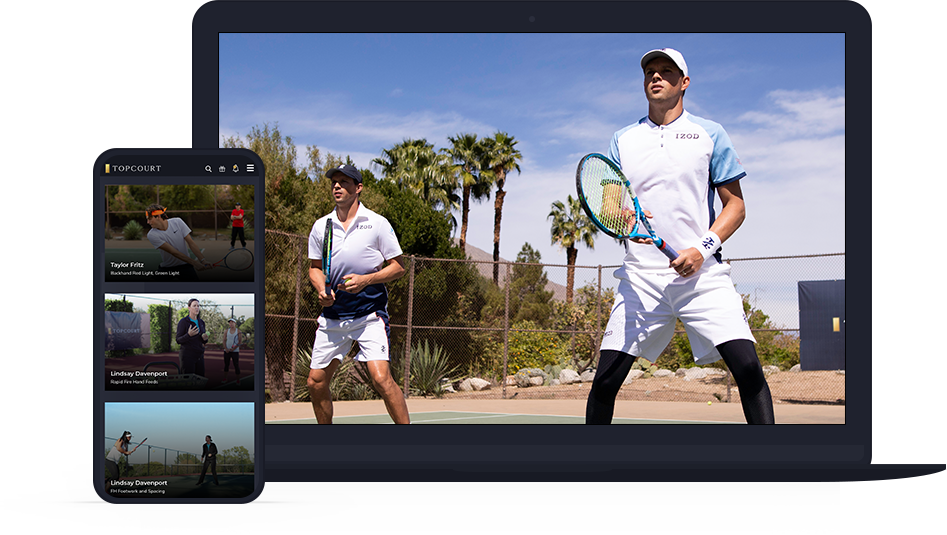 Get a TopCourt annual membership.
Access to all classes for $15/month (billed annually)
GET STARTED
JOIN THE GLOBAL MOVEMENT
Grow stronger together, no matter where you are in the world.
Frequently asked questions
TopCourt is a streaming platform that makes it possible for anyone to look into the life, mind, and performance of the top tennis pros. Drills, stories, behind the scenes events, and instructional videos are available anytime, anywhere on your smartphone, personal computer, and other streaming media players.
Membership includes access to an incredible catalog of 100+ drills, instructional videos, personal stories, and behind the scenes footage led by the world's top tennis professionals.

Each pro shares their best-kept secrets to mastering the game of tennis in a way you've never seen before. You'll learn world-class technique for all shots in the game, off court preparation and fitness regimens, mental strategies to get you through tough matches, and lots more so you finish on top.
With TopCourt, you can learn and be inspired anytime, anywhere, including your smartphone, personal computer, and other streaming media players. Watch at your own pace and unleash your full potential.
The annual membership starts at just $180 and provides unlimited access to all pros and new pros as they launch. All TopCourt memberships include unlimited streaming, high-definition videos, and special rewards for getting started.

Additional exclusive tennis experiences are available through our TopCourt Gold membership to get you closer to the game than ever before.
If you don't want to continue, you can cancel your membership renewal through your account page. Follow the prompts to cancel on the Settings page, and your membership will not renew. Please note that there aren't refunds for partially unused membership periods.

If you have more questions, don't hesitate to reach out to us at [email protected] We're happy to help in anyway we can!
Yes! Our team is continuously adding the world's top pros and coaches to the platform to ensure you stay ahead of the curve. With new content launching regularly, you can learn new skills, ignite your passions, and play the game better than ever before.

As a member, you can even win the chance to join us on set as a VIP guest and hang with the pros. We hope to see you there!
TopCourt offers instruction, drills, stories and more from a variety of current and former champions and world-class coaches. All of our videos are designed to be accessible for people with little to no experience and advanced professionals alike. If you're a tennis fan, or looking to unleash your potential, TopCourt is an absolute must have!