Brad Gilbert
Coached Agassi, Roddick, & Murray
One the most recognizable names and personalities in tennis, Brad Gilbert has spent his life devoted to the game. First as a player winning 20 pro singles titles, and then as a coach to legends like Andre Agassi, Andy Roddick, Andy Murray and more. Now the Oakland native is here to tell his story and give you the latest drills and tips for club players and aspiring pros so your game doesn't get left behind.
Class Trailer
Class Preview
Stories
Meet your new instructor: legendary player and coach, Brad Gilbert. Who knew that a father's decision to put a racquet in Brad's hand would lead to a career and a life devoted to the game.
Brad learned to play small from an early age. Always one of the smallest kids in his age all the way through college didn't stop him from finding ways to frustrate his opponents and win at all costs.
After a lackluster junior career and only one year at Arizona State University Brad's dream of being a pro tennis player looked like a fantasy. His time at Foothill Junior College was the turning point that sent his game and life on a new trajectory.
Brad share's the best advice he received before going pro. That advice was the mindset that allowed Brad to stay positive during the grind of the tour and over achieve during a long career as a player.
While still on tour himself, Brad is invited to dinner with Andre Agassi. Neither knew at the time that dinner would change their lives and result in 6 Grand Slam titles as a team.
All players are wired differently. Brad shares strategies that helped him coach various personalities, and how to get the most of them.
Prior to working with Brad, Andy Roddick was uncomfortable and lacked confidence on grass courts. Learn the secret to Roddick's results and ensuing grass court success from Brad himself.
Andy Murray has always been seen as an enigma. Brad describes his relationship with Murray and shares first hand experience of his unknown genius.
Since the age of 3, there has been one constant in Brad's life, the game of tennis. Brad share's how much the game truly means to him and the legacy he wants to leave behind.
Drills
If you have a tournament coming up, this is a perfect drill to refine your ground strokes and get you moving hard and efficiently. Brad takes Genie Bouchard through this side to side groundstroke drill focusing on hitting your targets with good depth and moving efficiently.
A great way to make sure you get your feet moving and stay in control of points is running around your backhand and finding your forehand. Brad takes Genie Bouchard through this great 6 ball drill to get your intensity up and take control of the point with your forehand.
In order to take control of a point you must get comfortable changing direction especially on your backhand. Brad shows you a drill that pros use to work on being aggressive with their backhand crosscourt in order to generate an opportunity to attack with a backhand down the line.
Instruction
Brad is a fan of modern tennis and loves when players finish points with the swinging volley. He shows you the keys to mastering the swinging volley and adding it to your repertoire of shots.
As you practice and train to take control in points it's equally important to practice finishing them. Brad shows you the keys to making sure you end points with authority.
Behind The Scenes
Get to know the real Brad Gilbert. The good, the bad, and hilarious.
Access to all classes for $15/month (billed annually)
Explore other classes
Watch hundreds of lessons from the best as they share their stories, instruction, drills, failures, and successes.
Access to all classes for $15/month (billed annually). 100% satisfaction guaranteed.
GET STARTED
Enjoy from anywhere,
at anytime, on any device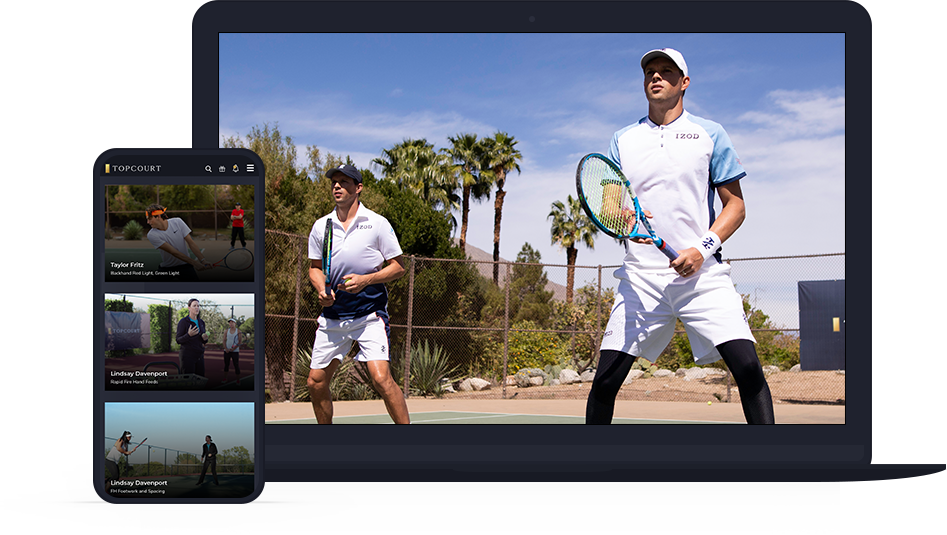 Get a TopCourt annual membership.
Access to all classes for $15/month (billed annually)
GET STARTED
JOIN THE GLOBAL MOVEMENT
Grow stronger together, no matter where you are in the world.
Frequently asked questions
TopCourt is a streaming platform that makes it possible for anyone to look into the life, mind, and performance of the top tennis pros. Drills, stories, behind the scenes events, and instructional videos are available anytime, anywhere on your smartphone, personal computer, and other streaming media players.
Membership includes access to an incredible catalog of 100+ drills, instructional videos, personal stories, and behind the scenes footage led by the world's top tennis professionals.

Each pro shares their best-kept secrets to mastering the game of tennis in a way you've never seen before. You'll learn world-class technique for all shots in the game, off court preparation and fitness regimens, mental strategies to get you through tough matches, and lots more so you finish on top.
With TopCourt, you can learn and be inspired anytime, anywhere, including your smartphone, personal computer, and other streaming media players. Watch at your own pace and unleash your full potential.
The annual membership starts at just $180 and provides unlimited access to all pros and new pros as they launch. All TopCourt memberships include unlimited streaming, high-definition videos, and special rewards for getting started.

Additional exclusive tennis experiences are available through our TopCourt Gold membership to get you closer to the game than ever before.
If you don't want to continue, you can cancel your membership renewal through your account page. Follow the prompts to cancel on the Settings page, and your membership will not renew. Please note that there aren't refunds for partially unused membership periods.

If you have more questions, don't hesitate to reach out to us at [email protected] We're happy to help in anyway we can!
Yes! Our team is continuously adding the world's top pros and coaches to the platform to ensure you stay ahead of the curve. With new content launching regularly, you can learn new skills, ignite your passions, and play the game better than ever before.

As a member, you can even win the chance to join us on set as a VIP guest and hang with the pros. We hope to see you there!
TopCourt offers instruction, drills, stories and more from a variety of current and former champions and world-class coaches. All of our videos are designed to be accessible for people with little to no experience and advanced professionals alike. If you're a tennis fan, or looking to unleash your potential, TopCourt is an absolute must have!