Nick Bollettieri
Coached Agassi, Courier, Seles
For over 60 years, Nick Bollettieri has thrived on accomplishing what those said couldn't be done. From developing champions like Monica Seles, Jim Courier, and Andre Agassi to founding the world's first major tennis boarding academy, Nick Bollettieri is a pioneer of the game. Now the legendary coach is here to share his experiences, and empower you with the knowledge and fundamentals that you'll need to learn the game that will last you a lifetime.
Class Trailer
Class Preview
Stories
Meet your new instructor: Founder of what is now known as the IMG Tennis Academy, Nick Bollettieri. From humble beginnings, the son of Italian immigrants sought out to do what others said couldn't be done.
One of the attributes of a great coach is to identify and embrace a player's unique style. Nick shares how he discovered two of his most unique students, Monica Seles, and Jim Courier.
Success is not an accident. Nick attributes much of his success to others around him, and ability to accept failure only if you are willing to learn from your mistakes.
We all have those around us that help us along the way. Nick is no different, here he shares who were the most impactful throughout his life, and career.
In tennis as in life, there is nothing more powerful than believing in yourself. Listen as Nick recounts memories of his time with Andre Agassi, and a simple conversation after a tough loss that exemplifies the power of belief.
Throughout his career, Nick has experienced countless parents coming to him with the idea that their child is going to be the next great champion. Here he shares his philosophy on player development, and the role a coach, and parent can play to help maximize a players potential.
After 60 years of coaching tennis at all levels, from absolute beginners to Grand Slam champions Nick has a lifetime of knowledge. Here he shares his most valuable pieces of advice from a lifetime of coaching.
Discipline and preparation are paramount for success in any industry. Listen as Nick shares stories from his time with Boris Becker and Mary Pierce to illustrate the epitome of discipline, and preparation.
Drills
As you develop the ability to make solid and consistent contact with the ball, the next step is developing control. Nick shows you a drill he uses with beginners to help develop ball control.
Whether you're Andre Agassi, or just picking up the game it's important to understand the role of your top hand on the two handed backhand. Nick shares a great drill and progression to make sure you're top hand does all the work on your two handed backhand.
Many players make the mistake of taking their racquet back with their arms, rather than having a good turn with their hips and shoulder. Here Nick shows you a great drill to help get the feeling of turning your hips and shoulders for both your ground strokes and your volley.
A common mistake on the one handed backhand volley is collapsing your wrist at impact. Nick will show you a great drill to help keep your racquet head, and wrist stable through contact to get you more confident at net.
Your movement to the ball should begin as soon as you see your opponent make contact. Here, Nick shows you a drill to help make sure you are moving to the ball effectively, and efficiently.
In 1995, Mary Pierce won her first Grand Slam at the Australian Open with the help of Nick Bollettieri. Here is the drill that prepared Mary for the Australian heat and led to her capturing the first of her two Grand Slam titles.
Instruction
Everyone has to start somewhere. No matter the age, Nick shares how he believes any player should learn the game, and the simple skill that is crucial in developing an early enjoyment for the game.
There is no better way to learn something, than by experiencing it. Nick shares his philosophy on teaching a player how and when to come to the net.
As a coach or a player, it's important to be able to see a player's tendencies, mistakes, and strengths just by observing. Here Nick observes two players play a few points against each other and immediately pinpoint areas of improvement.
Behind The Scenes
Behind the scenes coming soon.
Access to all classes for $15/month (billed annually)
Explore other classes
Watch hundreds of lessons from the best as they share their stories, instruction, drills, failures, and successes.
Access to all classes for $15/month (billed annually). 100% satisfaction guaranteed.
GET STARTED
Enjoy from anywhere,
at anytime, on any device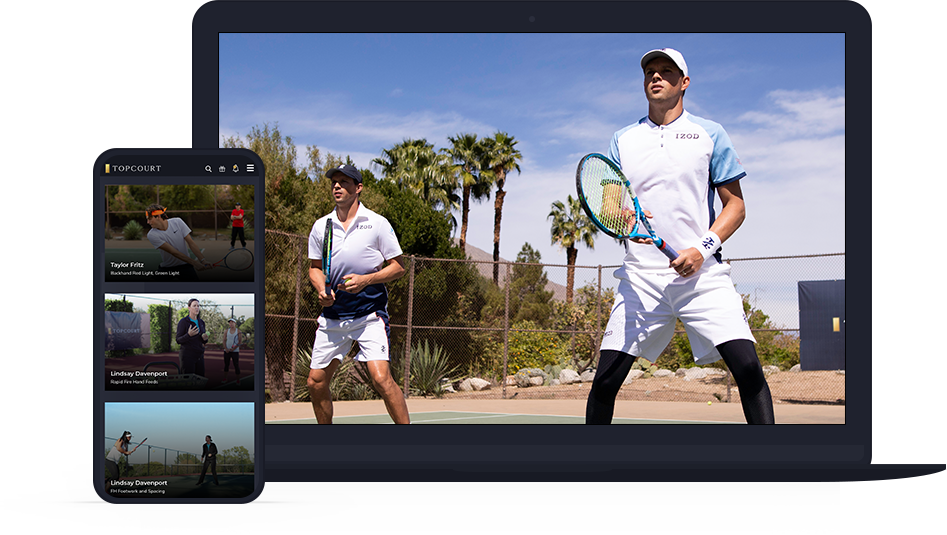 Get a TopCourt annual membership.
Access to all classes for $15/month (billed annually)
GET STARTED
JOIN THE GLOBAL MOVEMENT
Grow stronger together, no matter where you are in the world.
Frequently asked questions
TopCourt is a streaming platform that makes it possible for anyone to look into the life, mind, and performance of the top tennis pros. Drills, stories, behind the scenes events, and instructional videos are available anytime, anywhere on your smartphone, personal computer, and other streaming media players.
Membership includes access to an incredible catalog of 100+ drills, instructional videos, personal stories, and behind the scenes footage led by the world's top tennis professionals.

Each pro shares their best-kept secrets to mastering the game of tennis in a way you've never seen before. You'll learn world-class technique for all shots in the game, off court preparation and fitness regimens, mental strategies to get you through tough matches, and lots more so you finish on top.
With TopCourt, you can learn and be inspired anytime, anywhere, including your smartphone, personal computer, and other streaming media players. Watch at your own pace and unleash your full potential.
The annual membership starts at just $180 and provides unlimited access to all pros and new pros as they launch. All TopCourt memberships include unlimited streaming, high-definition videos, and special rewards for getting started.

Additional exclusive tennis experiences are available through our TopCourt Gold membership to get you closer to the game than ever before.
If you don't want to continue, you can cancel your membership renewal through your account page. Follow the prompts to cancel on the Settings page, and your membership will not renew. Please note that there aren't refunds for partially unused membership periods.

If you have more questions, don't hesitate to reach out to us at [email protected] We're happy to help in anyway we can!
Yes! Our team is continuously adding the world's top pros and coaches to the platform to ensure you stay ahead of the curve. With new content launching regularly, you can learn new skills, ignite your passions, and play the game better than ever before.

As a member, you can even win the chance to join us on set as a VIP guest and hang with the pros. We hope to see you there!
TopCourt offers instruction, drills, stories and more from a variety of current and former champions and world-class coaches. All of our videos are designed to be accessible for people with little to no experience and advanced professionals alike. If you're a tennis fan, or looking to unleash your potential, TopCourt is an absolute must have!