Sam Querrey
Highest Ranking #11
After more than a decade on tour and 10 ATP titles, Sam Querrey has been one of America's brightest stars. Now the kid from California is here to teach you the drills that kept tennis fun for him as a youngster, and how he took his game to the next level in the pros. Join Sam as he shares his story and the unique, refreshing perspective he has on the game of tennis.
Class Trailer
Class Preview
Stories
Meet your new instructor: a 10 time champion on the ATP tour, and one of the top American players for the last decade, Sam Querrey. Join Sam as he shares his pure start to the game, and how tennis wasn't always his priority.
Growing up a multi sport athlete, tennis wasn't Sam's first passion. As time went on, and he began to recognize his talents, it always remained fun first.
At 14, Sam was already making a name for himself on the national tennis scene, but still competing on his high school basketball team, and attending school like any other kid. Looking back, he wouldn't have it any other way. Listen as Sam gives his thoughts on kids specializing in a specific sport.
Things start getting serious for Sam after he wins the 16 and unders at Kalamazoo and is awarded a wild card into the junior US Open. Taking his game to a new level with coach Michael Joyce, Sam begins to see the game in a new way.
Sam was signed to play college tennis at the University of Southern California. The summer before his freshman year gave him reason to change his plans.
As a young pro fresh on tour at just 18 years old, Sam had a lot to learn. Listen as he describes the difference between practice as a junior and practice for those looking to be elite professionals.
The first time Sam played Rafael Nadal was a memorable moment. Listen as Sam describes the experience, taking the first set off of Rafa, and the locker room bet made by Andy Roddick right before going on court.
Every athlete experiences nerves, if they didn't it would mean they didn't care. Listen as Sam gives his advice for facing those nerves and how he learned to harness those emotions in big matches.
Sam describes his title at Acapulco as the biggest of his career not just because he beat Rafael Nadal in the final but what it took to get there. The week of his biggest tournament win of his career didn't start the way you'd expect.
There's always going to be adversity in every match you play, you're not going to feel perfect every time you step on court. Sam is no different, and gives his perspective on the mentality it takes to overcome adversity on the court.
As a new father and over a decade on tour, Sam has a great perspective as he looks back on his career and what he wants to get out of the future. That perspective is reflected in his biggest piece of advice to junior players everywhere.
Drills
As a tall lanky player, developing proper footwork was crucial for Sam to be efficient with his movement. This is a drill Sam began doing as a junior, and still does today to help create the proper spacing and footwork for his forehand.
Sam needed to be enticed by games and fun drills to stay engaged as a youngster. Here he walks you through a fun target drill that is great for coaches and parents to keep their younger players engaged and motivated.
Executing short high forehands may seem like something you don't need to practice. Take it from Sam, you never want to neglect the "easy" shots in practice, and this drill is a great way to build confidence.
This is a drill Sam does every day in practice and even before matches. Taking every ball on the rise, exaggerating your movement, and perfecting your timing will make things move much slower once you get into your match.
This is a drill Sam used often growing up to gain consistency and confidence with his volleys. By creating pressure in the drill to make 20 in a row, you will gain confidence to make the volley that matters in the match.
Instruction
As a server you're always looking to gain control of the point from the very first ball. Sam walks you through how he approaches the first serve and the techniques he learned as a kid that helped develop his world class serve.
The kick serve is an effective go to on your 2nd serve, but takes time to develop the skills needed to execute properly. Sam walks you through step by step how to hit a kick serve and the simple drill that helped him master it.
Behind The Scenes
Get to know the real Sam. The good, the bad, and hilarious.
Access to all classes for $15/month (billed annually)
Explore other classes
Watch hundreds of lessons from the best as they share their stories, instruction, drills, failures, and successes.
Access to all classes for $15/month (billed annually). 100% satisfaction guaranteed.
GET STARTED
Enjoy from anywhere,
at anytime, on any device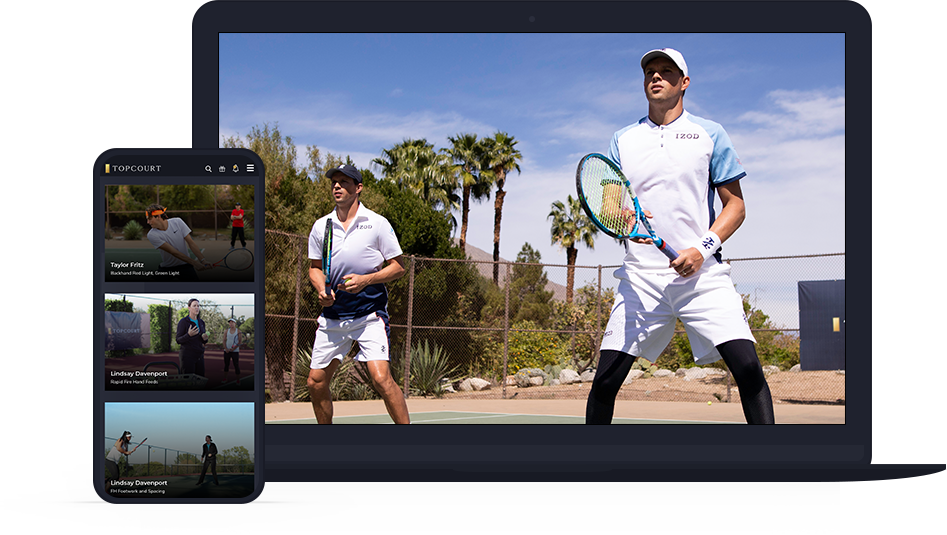 Get a TopCourt annual membership.
Access to all classes for $15/month (billed annually)
GET STARTED
JOIN THE GLOBAL MOVEMENT
Grow stronger together, no matter where you are in the world.
Frequently asked questions
TopCourt is a streaming platform that makes it possible for anyone to look into the life, mind, and performance of the top tennis pros. Drills, stories, behind the scenes events, and instructional videos are available anytime, anywhere on your smartphone, personal computer, and other streaming media players.
Membership includes access to an incredible catalog of 100+ drills, instructional videos, personal stories, and behind the scenes footage led by the world's top tennis professionals.

Each pro shares their best-kept secrets to mastering the game of tennis in a way you've never seen before. You'll learn world-class technique for all shots in the game, off court preparation and fitness regimens, mental strategies to get you through tough matches, and lots more so you finish on top.
With TopCourt, you can learn and be inspired anytime, anywhere, including your smartphone, personal computer, and other streaming media players. Watch at your own pace and unleash your full potential.
The annual membership starts at just $180 and provides unlimited access to all pros and new pros as they launch. All TopCourt memberships include unlimited streaming, high-definition videos, and special rewards for getting started.

Additional exclusive tennis experiences are available through our TopCourt Gold membership to get you closer to the game than ever before.
If you don't want to continue, you can cancel your membership renewal through your account page. Follow the prompts to cancel on the Settings page, and your membership will not renew. Please note that there aren't refunds for partially unused membership periods.

If you have more questions, don't hesitate to reach out to us at [email protected] We're happy to help in anyway we can!
Yes! Our team is continuously adding the world's top pros and coaches to the platform to ensure you stay ahead of the curve. With new content launching regularly, you can learn new skills, ignite your passions, and play the game better than ever before.

As a member, you can even win the chance to join us on set as a VIP guest and hang with the pros. We hope to see you there!
TopCourt offers instruction, drills, stories and more from a variety of current and former champions and world-class coaches. All of our videos are designed to be accessible for people with little to no experience and advanced professionals alike. If you're a tennis fan, or looking to unleash your potential, TopCourt is an absolute must have!