OFFICIAL TENNIS E-LEARNING PLATFORM
New classes added every month
PERFECT FOR ALL SKILL LEVELS
Our personalization algorithms suggests the individual lessons, drills, and instruction for you to improve faster than ever before. We have fun classes for those yet to pick up a tennis racket, elite professionals, and everyone in between.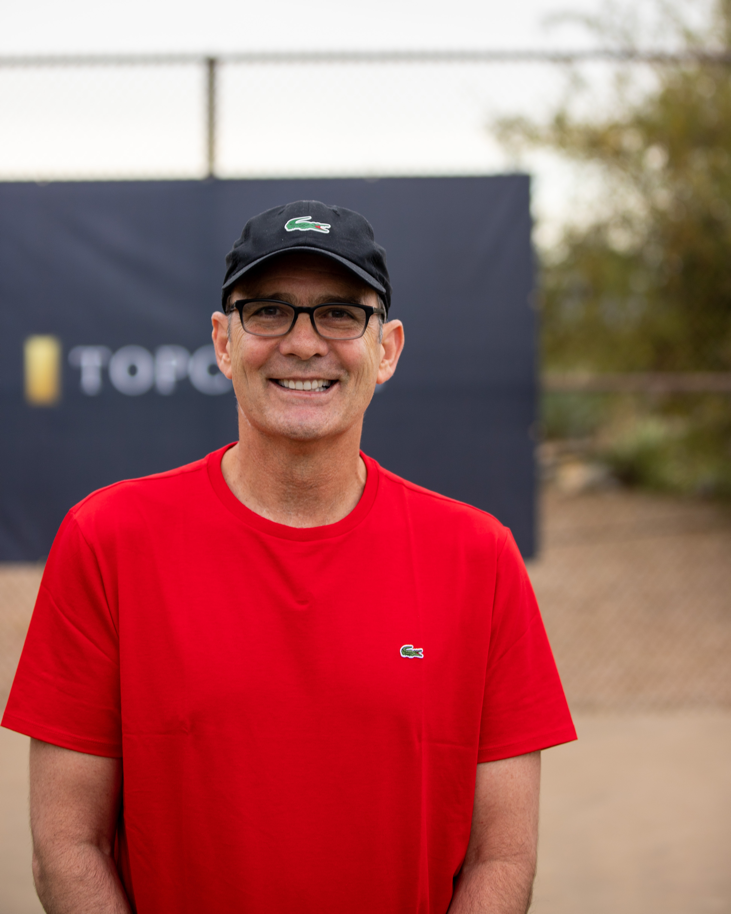 IMPROVE your GAME IN 10 minutes or less
Watch quick drills, fun stories, or binge right through a class. TopCourt fits in any part of your day.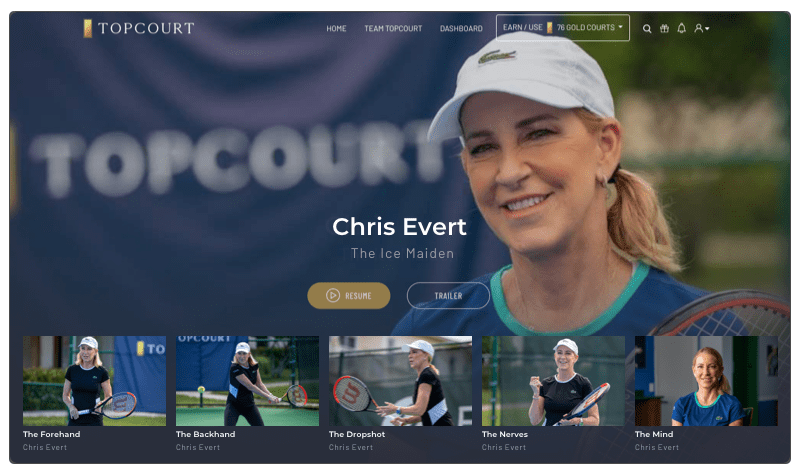 WHY YOU WILL LOVE TOPCOURT
INSTANT ACCESS TO LESSONS FROM 50+ ICONIC PROS.
The greatest have something to teach us all—at any level. Watch Grand Slam Champions, World #1's, and Olympic Gold Medalists share their drills, instruction, stories, and everyday wisdom to inspire you.
WORK ON YOUR GAME AT YOUR PACE, WITH UNLIMITED ACCESS TO ONLINE LESSONS WHEN AND WHERE YOU WANT THEM.
Watch at home on your big screen or on the go with your mobile device or tablet. Each class features tennis video lessons that fit into any part of your day. Learn on your own terms with the latest in microlearning methodologies.
IMPROVE YOUR TECHNIQUE, STRATEGY, AND MENTAL GAME.
Cinematic visuals and close-up, hands-on demonstrations make you feel one-on-one with our instructors. Reinforce your learning with help from the greatest ever.
LESSONS FOR ALL SKILL LEVELS, FROM BEGINNER TO ADVANCED.
TopCourt will customize your account and suggest the perfect classes for your individual skill level. We have classes for beginners, recreational players, tournament competitors, and professionals.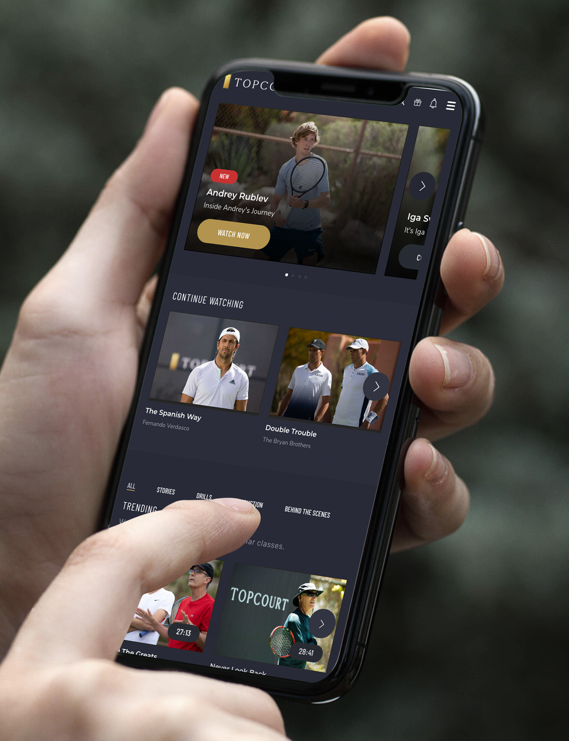 What members are saying
Join thousands of other players learning on TopCourt
Frequently asked questions
TopCourt is a streaming platform that makes it possible for anyone to look into the life, mind, and performance of the top tennis pros. Drills, stories, behind the scenes events, and instructional videos are available anytime, anywhere on your smartphone, personal computer, and other streaming media players.
Membership includes access to an incredible catalog of 100+ drills, instructional videos, personal stories, and behind the scenes footage led by the world's top tennis professionals.

Each pro shares their best-kept secrets to mastering the game of tennis in a way you've never seen before. You'll learn world-class technique for all shots in the game, off court preparation and fitness regimens, mental strategies to get you through tough matches, and lots more so you finish on top.
With TopCourt, you can learn and be inspired anytime, anywhere, including your smartphone, personal computer, and other streaming media players. Watch at your own pace and unleash your full potential.
The annual membership starts at just $180 and provides unlimited access to all pros and new pros as they launch. All TopCourt memberships include unlimited streaming, high-definition videos, and special rewards for getting started.

Additional exclusive tennis experiences are available through our TopCourt Gold membership to get you closer to the game than ever before.
If you don't want to continue, you can cancel your membership renewal through your account page. Follow the prompts to cancel on the Settings page, and your membership will not renew. Please note that there aren't refunds for partially unused membership periods.

If you have more questions, don't hesitate to reach out to us at [email protected] We're happy to help in anyway we can!
Yes! Our team is continuously adding the world's top pros and coaches to the platform to ensure you stay ahead of the curve. With new content launching regularly, you can learn new skills, ignite your passions, and play the game better than ever before.

As a member, you can even win the chance to join us on set as a VIP guest and hang with the pros. We hope to see you there!
TopCourt offers instruction, drills, stories and more from a variety of current and former champions and world-class coaches. All of our videos are designed to be accessible for people with little to no experience and advanced professionals alike. If you're a tennis fan, or looking to unleash your potential, TopCourt is an absolute must have!
WTA Tour and the design of the tennis player are the registered trademarks of the WTA Tour, Inc.
ATP Tour and the design of the tennis player are the registered trademarks of the ATP Tour, Inc